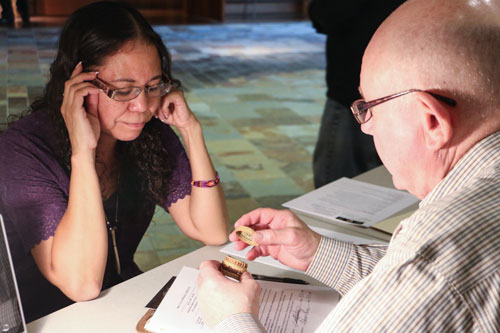 By Brandi N. Montreuil, Tulalip News

TULALIP – It was basket extravaganza at the second Hibulb Appraisal Day on Saturday, May 3, when the center welcomed Brill Lee, an accredited member of the International Society of Appraisers and independent appraiser, for the second time.
Almost a dozen guests attended the event, bringing more than a dozen items to be appraised. Items, unlike the first Hibulb Appraisal Day, were mainly baskets made by local Native American artists and Alaska Native weavers.  The baskets displayed a wealth of weaving skill and tribal history.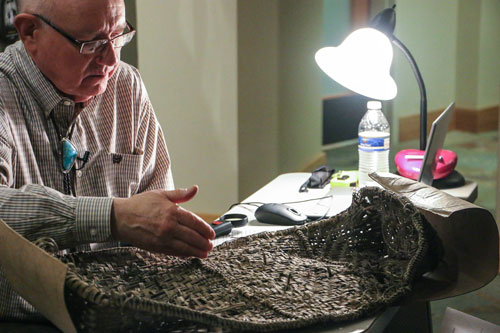 The surprise of the day was a basket-like item rescued from the Nooksack River by a tribal fisherman. The basket featured weaving patterns and material not indigenous to this area and was referred to the Seattle Burke Museum for further study.
The center was gifted a pair of leather beaded gauntlet gloves, donated by guest Troy Jones. The gloves were a trade item in 1930 to a service station in Granite Falls for work completed on a vehicle. The gloves have been in his family since the trade. Lee appraised the item at $3,000 to $3,500 due to the current market value, condition, material used, and artist skill.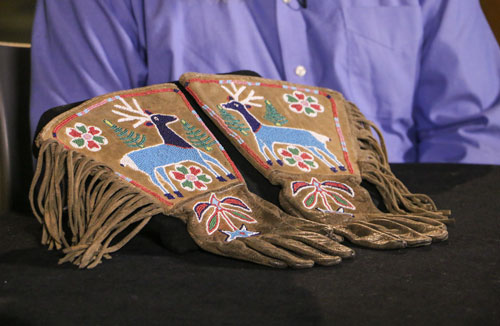 Combined value of items appraised during event totaled more than $8,600.
If you are interested in having an item appraised, you can check out Brill Lee's website at www.brillleeappraisals.com or by telephone at 425-885-4518. For more information about events happening at Hibulb or the next Hibulb Appraisal Day, please visit their website at www.hibulbculturalcenter.org.
Brandi N. Montreuil:360-913-5402; bmontreuil@tulaliptribes-nsn.gov