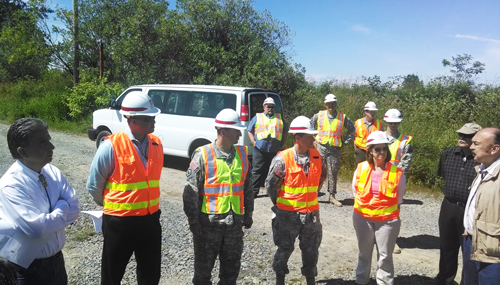 By Andrew Gobin, Tulalip News

The Army Corps of Engineers toured the Qwuloolt Estuary, located in Marysville, on Wednesday, June 25, as part of a transitional period. Colonel Bruce Estok is stepping down from his position with the corps, and is introducing his successor, Colonel John Buck, to some of the communities and projects the corps is involved with. The Qwuloolt Estuary project is an example of successful collaboration between the corps and local communities with specific interests.
Col. Buck said, "The corps' primary focus is Puget Sound. This is a great example of the corps and the tribe coming together to tackle a hard problem, which is to restore the Puget Sound ecosystem. This project is 20 years in the making, and it's exciting to see the work happening."
The Qwuloolt Estuary was chosen as a project site tour for a few reasons, mainly the unique relationship the corps has with Tulalip, and the importance of the project in reaching the goal of restoring the waters of Puget Sound.
"The estuary has been deemed a crucial habitat for salmon for a long time.  It is crucial to any watershed. It is the place where life happens, where the land meets the sea," said Kurt Nelson, Environmental Division Manager for the Tulalip Natural Resources Department.
"This project, the way it was organized and designed, it didn't quite fit the corps' normal procedures. This is a unique project," Nelson added. "What we need for the future is a way to make procedures more flexible for unique situations, like this one."
Col. Estok explained that the corps projects are not really part of the president's budget, mostly due to a lack of feasibility plan. Because of that, funding is often uncertain, so the projects remain uncertain right up until the first day work actually begins.
"Tulalip Tribes is our unofficial sponsor," said Col. Estok.
He and Nelson explained that the funding for Qwuloolt largely comes from 21 grants the tribe secured to cover project costs. Grant funding often has time constraints, which means the funds might not be available by the time the Army Corps of Engineers process is complete. That is one major obstacle that had to be overcome for Qwuloolt.
Tulalip Tribes Vice Chairman Les Parks, who represented the council at the site tour, said, "We appreciate that you guys came out, especially Colonel Buck, taking the helm now. The health of Puget Sound is faltering, and projects like this will help to restore it."
Col. Estok noted that this is not the first collaborative effort between the corps and the Tulalip Tribes.
"We have the first in-lieu fee mitigation plan with a tribe. That's a good relationship, one that we want to keep building on," he said.
For more information about the Qwuloolt Estuary, visit www.qwuloolt.org.