By Monica Brown, Tulalip New writer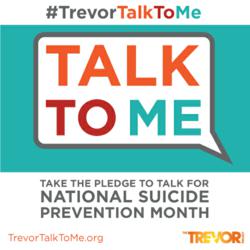 TULALIP, Wash. – September is national Suicide Prevention month and the Tulalip community has come together to spread awareness about this misfortune. Studies by the National Institute of Mental Health have found that American Indians and Alaskan Natives have the highest rates of suicide with 14.3 per 100,000 compared to Non-Hispanic Whites 13.5, Hispanics 6.0, Non-Hispanic Blacks 5.1 Asian and Pacific Islanders 6.2.
During Tulalip's community meeting on Friday, September 13th, the focus was on suicide prevention awareness and motivational speaker Arnold W. Thomas was asked to attend and share his life changing experience in an effort to highlight the warning signs and steps to take when someone may be having suicidal thoughts.
In 1988 Thomas attempted suicide, an event that left him alive yet permanently disabled. Due to the extensive damage from his suicide attempt he was left permanently scared, blind and unable to speak for many years.
"I should have died on that night. I lost a lot of blood, swallowed a lot of blood into my lungs, "said Thomas about the night he tried to take his life. Thomas was 18yrs old in high school, playing basketball and going through many confusing emotions about the suicide of his father two years prior. At a time of deep emotional turmoil, Thomas was using drugs and alcohol and began thinking that no one cared and instead of talking to someone or asking for help he put a gun to his head.
Thomas believes that suicide is not the problem, the real problem is, "Our inability to express our thoughts and our feelings in manner which helps us to feel at peace in our head and our heart."
"Tell them you love them," explained Thomas, on how important it is to talk to people close to you about your feelings and show gratitude to your family and friends. "All the bones in my face were shattered and I spent two years not being able to speak. I saw how I hurt my family. I made a commitment to go through any and all surgeries to reconstruct my face and maybe one day I'd be able to talk again."
Thomas is a Shoshone-Paiute native and has prevailed over his depression and physical disabilities. He has undergone 30 surgeries and completed a rehabilitation program that allows him to live independently. Thomas has earned a degree in psychology, a masters in social work and owns a consulting business called White Buffalo Knife that allows him to travel all over the country to share his story of perseverance.
According to Global Mental Health, mental health disorders have become a global issue that currently affects 450 million people worldwide*. Tulalip Family services is working hard to inform the community about the prevalence of suicide among young people and especially Native people in hopes that it will inspire others to care and help someone that is dealing with depression.
The National Suicide Prevention  Line is 1-800-273-8255. For help with depression or help to speak with someone about depression please call Tulalip Family Services at 360-716-4400 or go to save.org. For more information about Arnold Thomas please visit www.whitebuffaloknife.com