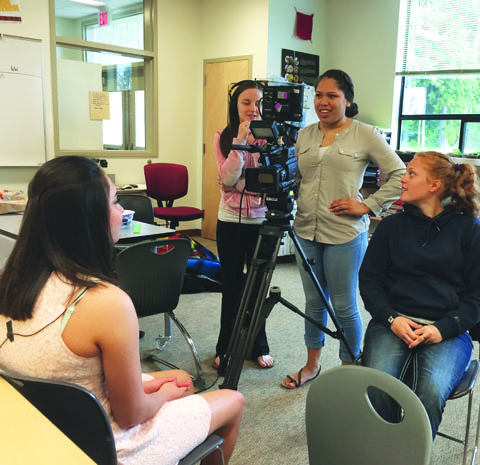 by Mara Hill, Tulalip News 
Students at Tulalip Heritage High School were given the opportunity to experience different types of art in a program called Artists in Residency (AIR). Eight artists from the area came to the school to instruct students in a fourteen-week course, giving each student an option to learn, create, and perform two different types of art. The art classes offered were cedar weaving, carving, yoga, pow wow 101, Native American flute making/playing and video production. The teachings from each instructor allowed students a hands-on and individualized experience.
Shelly Lacy, the principal at Heritage, explained that the students not only learn the craft that the artist is sharing, but they learn traditional teachings as well.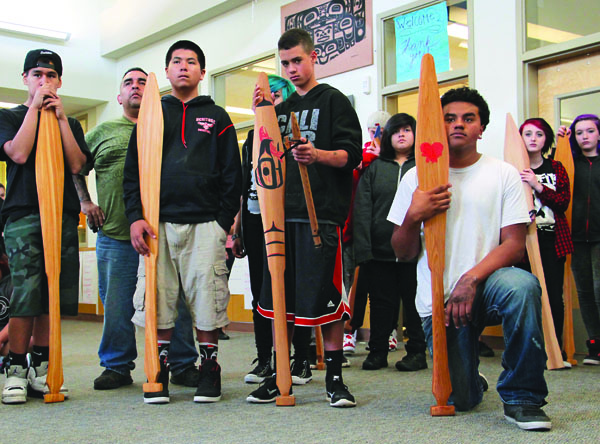 The video production class, instructed by Brian Berry and Rick Valentine, video producers from the Tulalip Tribes Communications Department, introduced students to the basics of video production and film making and then progressed into some of the more technical aspects. Students learned about framing, lighting, b-roll, audio, and editing. They were also taught how to interview people and operate a high definition video camera.
Nina Fryberg, a senior at Heritage, talked about why she chose video production. "At first I decided to take yoga and cedar weaving, but I asked to switch into film-making for both periods instead." Fryberg had experience working on a short-film last year in another program, which helped with her decision to participate in video production this year. She also earned a position as a student producer, which allowed her to give other students instructions and tell them which crew positions they were assigned to.
Berry explains that students weren't selected as producers, but that they more or less "earn the position by showing a significant level of initiative and attention." Student producers also run the productions and make editing decisions.
"It takes a lot of effort to put into film-making. You have to plan everything out and make sure everything is okay and ready to go before you start filming" said Fryberg.
In the final weeks, students in each class finished their projects and prepared to perform for the other students, instructors and faculty members. The video production class created a short film, "Heritage High School – A Small Learning Community" which previewed on May 15th, about what makes Tulalip Heritage High School unique and why students chose Heritage over other schools in the district. The video was a product of what the students learned over the course of 14 weeks.
"The student body, faculty and fellow AIR artists screened the video and it received a round of applause and cheers" said Berry.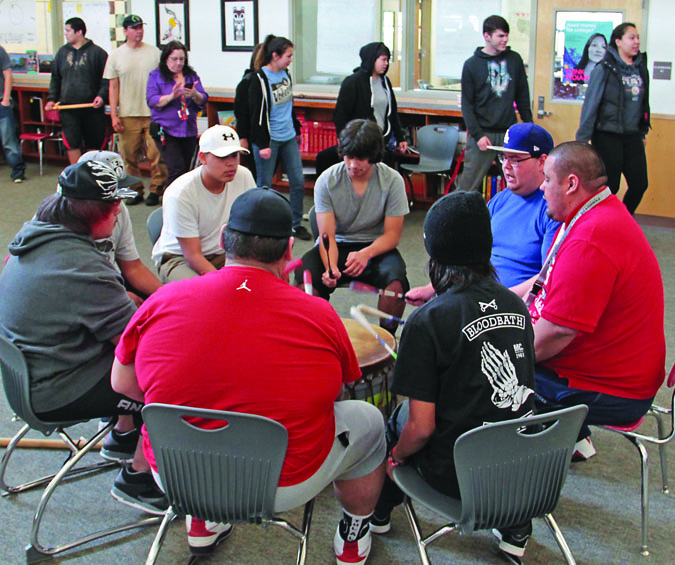 The six additional artists who shared their gifts, teachings, knowledge, and talent with the students were Clarissa Johnny, Kelly Moses, Mytyl Hernandez, Ian LaFontaine, Sheri Thunder Hawk and Paul Wagner.
"Heritage High School – A Small Learning Community"can be watched on demand at tulaliptv.com and found in the Tulalip Culture section of the main menu.
The video will also be included in the May 25th edition of Tulalip Matters, which will air daily for a week, beginning May 25, on Tulalip TV channel 99, at 12: a.m., 8:00 a.m., 12:00 p.m., and 5:00 p.m.
Tulalip Matters can also be viewed anytime, on demand, at tulaliptv.com.
Contact Mara Hill, mhill@tulaliptribes-nsn.gov