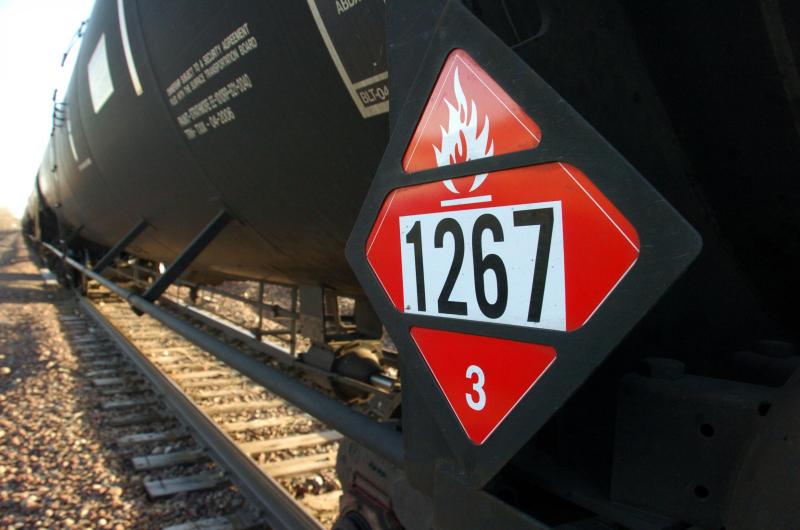 By Bellamy Pailthorp, KPLU
The rapid increase of trains carrying crude oil across the region has raised alarm bells in the wake of a series of serious accidents. Communities and first responders say they can't adequately prepare for possible disasters because railroads are not required to give any information on the shipments.
That's about to change, at least to some extent, with a new regulation that takes effect Friday.
An emergency order from the U.S. Transportation Department will require railroads to tell states how many trains carrying highly-volatile Bakken crude are expected to travel through each week, and on which routes.
The order was issued just a week after the latest oil train accident — a derailment in Lynchburg, Virginia — that sent eight-story fireballs into the sky.
A 'Small Step'; 'Hardly Where We Need To Be'
"I think it's a very small step in the right direction," said Eric de Place, policy director with Seattle's Sightline Institute, an environmental think tank that has been reporting on what it calls an emerging "pipeline on rails." He says the new federal rules don't go far enough.
"Let's keep in mind, this is not requiring them to use safer tank cars. This is not requiring them to slow down in our neighborhoods. This is not requiring them to inform emergency responders of the dangers," de Place said. "All they're having to do is tell us some very rough figures about how many potentially explosive trains are in our states. So, it's better than nothing, but it's hardly where we need to be."
Sightline has been documenting the growth in oil train traffic. DePlace says nationally, it's increased nearly 60-fold over the past five years.
Info Will Help Communities Better Prepare
Barb Graf, director of emergency management for the city of Seattle, testified at a recent hearing on rail safety before the U.S. Senate.
She says fire departments need to know when mile-long oil trains are passing through. The new rule will help communities better prepare for disasters "in the same way that we have ongoing discussions with geologists and scientists about what's our earthquake threat, what's the recurrence rate and that type of thing," she said.
"This just gives us more information about the kinds of hazardous materials that would be in our community at any given time," Graf said.
Advocates for more regulation say they'll keep pushing. They want more specifics on the shipments, as well as tougher standards for tank car safety. They also say it should apply to all shipments of oil by rail, not just the longest trains carrying Bakken crude.