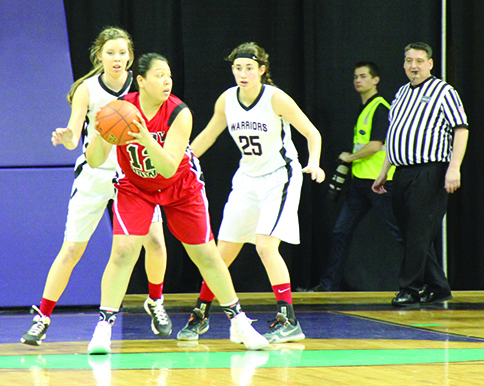 By Micheal Rios, Tulalip News
On Friday, March 4, the Tulalip Heritage Lady Hawks (23-2) played a loser-out game in the State tournament held at Spokane Arena. Their opponent was the Warriors from Almira-Coulee-Hartline.
In the 1st quarter, Adiya Jones came out very aggressive and scored on three of her first four shots. Tied at 6-6, the Warriors started double teaming Adiya as much as possible, which put the clamps on the Lady Hawks offense. The Warriors finished the quarter on a 12-2 run to take an 18-8 lead over Tulalip.
In the 2nd quarter, the Lady Hawks went on a 10-4 run sparked by Aliya Jones connecting on a 3-pointer and a long two, then Adiya added a couple free-throws and a 3-pointer of her own. Trailing by only 4 points, 18-22, the Lady Hawks put enough pressure on the Warriors that they called a timeout. Following the timeout, the Warriors again adjusted their defense to pick up Aliya at half-court and pressured her to give up the ball. The Warriors adjustment worked as the Lady Hawks were unable to get their offense going to close the half and were trailing 22-30 at the intermission.
The Warriors ability to disrupt the Lady Hawks offense by forcing turnovers, corralling seemingly every rebound, and using their own size and athleticism to score on the Tulalip defense proved to be too much to overcome. The Lady Hawks lost the game 43-64, ending their season.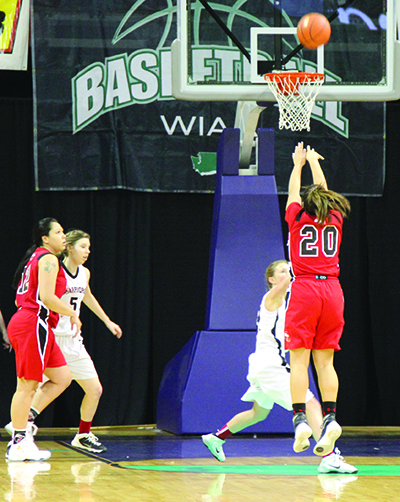 Adiya finished her last high school game again filling the box score with 27 points, 11 rebounds, 4 assists, 1 steal and 6 blocks. Even more impressive, Adiya scored or assisted on 37 of the teams 43 points. Aliya added 9 points, Keryn 5 points, and Desirae 2 points.
This season was a tremendous success for the Lady Hawks. After a season to forget last year, in which the team went 2-18, the program added the talents of Aliya, Keryn and all-state selection Adiya. With a renewed vigor the Lady Hawks power housed through their regular season schedule going undefeated and winning by a whopping 30 points per game. They won their league, finished 2nd at Tri-Districts, and were one of only eight teams to play for the State title.
Senior players Adiya Jones, Michelle Iukes, Desirae Williams, Kaenishia Herrera, and Geri Iukes will be graduating this spring.
Shown below, Adiya Jones and Keryn Parks were recipients of the Hardwood Classic sportsmanship award for their play at State.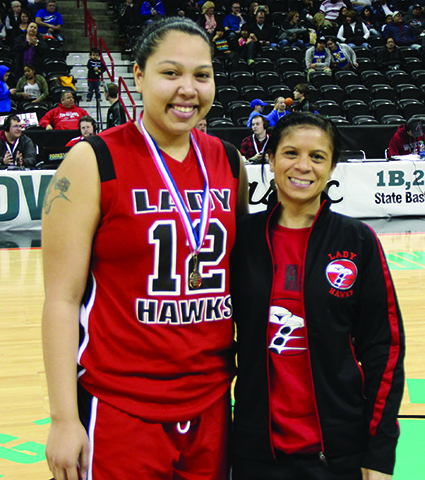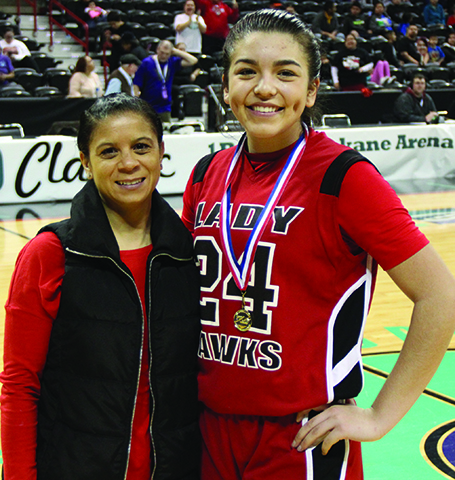 Contact Michael Rios, mrios@tulaliptribes-nsn.gov