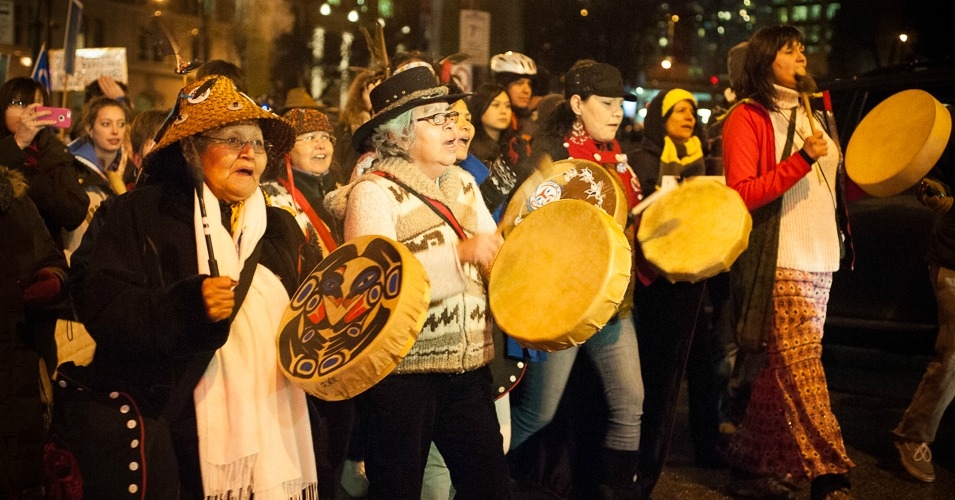 By Andrea Paldraman, Common Dreams
Can a First Nations-led, people-driven movement really have the power to stop Big Oil?
The folks behind the Pull Together campaign think so. The Pull Together initiative supports First Nations in B.C. who are taking to the courts to stop Enbridge's Northern Gateway project.
Led by the Gitxaala, Heiltsuk, Kitasoo/Xai'xais, Nadleh Whut'en, Nak'azdli and Haida — nations united in their fierce opposition to tar sands oil endangering their traditional territories — Pull Together's involvement synchronized with a very active movement against tar sands pipelines in B.C. and community-based opposition Enbridge in particular. The campaign is using a new model of online fundraising that, combined with real-world, grassroots organizing, is delivering solid results.
It's a model where Indigenous leadership combines with cutting-edge organizing strategies — online, on the land and on the streets. Through a unique blend of real-world events and online fundraising, Pull Together has raised an astonishing $250,000, and is looking forward to realizing a goal of $300,000 by the end of 2014.
B.C.'s opposition to Enbridge is strong and growing. While the company is delaying the project, and investors are growing uneasy, according to RAVEN's Susan Smitten, "Stopping the project will take a court-ordered resolution, because Enbridge has no intention of giving up on the project."
While First Nation's constitutional rights can be a powerful tool to ensure affected communities have a stake in projects in their traditional territories, Smitten points out, "First Nations stand as a last and inviolable line of defense against environmental destruction — if and only if the nations can afford to uphold those rights in court."
"I know First Nations have an incredible amount of power on that legal side of things," says Jess Housty, of the Heilsuk First Nation council. "But… I know what tribal government's resources are and I know what our responsibilities are. And they are really broad! We're responsible for virtually every aspect of the welfare and the development of our community."
"The thought of a lawsuit added on top of that is such a huge capacity strain. I have a huge amount of admiration for my community, and for many other communities, that never hesitated to take on court challenges. But I wondered where and how and when the support would come."
The support Housty and other First Nations leaders are enjoying has been building, with involvement by many people and groups over many years.
Pull Together has tapped into a powerful anti-tankers and pipelines movement that represents the majority of British Columbians who don't want the Enbridge project to proceed. The campaign has motivated organizers, businesses, and community groups who understand the power, and principle, of standing with First Nations opposed to oil and gas development on our west coast.
"The Pull Together campaign is driven by people who care and are politically astute," said kil tlaats 'gaa Peter Lantin, President of the Haida Nation. "They can see how the future of the country is shaping up and want to be part of it."
From Haida Gwaii to Nelson, Kitsilano to Kitgaatla, B.C's creative, tough, and committed culture is coming out in full force to fight Enbridge. Alliance building between NGOs — Sierra Club B.C. and RAVEN have joined forces on the campaign– offers a way forward for an environmental movement that has suffered from fragmentation in the past.
Who knew stopping a pipeline could be so much fun?
While the goal of stopping a pipeline is deadly serious, the means to that end are less of a struggle, and more of a celebration.
With over 40 events, 100 online fundraisers and 30 businesses involved, Pull Together is lighting up B.C. The campaign got its start with a spaghetti dinner hosted by Friends of Morice-Bulkley Valley in Smithers.
From that original $2,000 fundraiser, the campaign gained steam with an Island All-Stars gala on Pender Island, featuring Daniel Lapp, Mae Moore and Lester Quitzau that brought in $8,000. Salt Spring Island's "Only Planet Cabaret" brought in $5,000 over three sold-out shows in Victoria and on the islands, while tickets to the Pull Together show at St. Barnabas in Victoria, featuring headliners Compassion Gorilla and Art Napoleon, sold fast.
Says Sierra Club B.C. campaigns director Caitlyn Vernon, "It's incredible to think that Pull Together began in the summer with a community group in Terrace raising $2,000, and now we have raised a hundred times that!"
The campaign has inspired artists, from Kitgaatla nurse and photographer Paulina Otylia, who donated family portrait sessions for the campaign, to Franke James of "Banned on the Hill" fame who has contributed limited edition prints. At last weekends' East Side Culture Crawl, Shannon Harvey's Monkey 100 studio is featuring "Wish You Were Here" woodcut postcards with proceeds to Pull Together.
Businesses are pulling too: Salt Spring Coffee held a "Lattes for the Coast" fundraiser this week, while the B.C. Kayak Guide Association has assembled an online fundraising team comprised of kayak guides and outfitters. Moksha Yoga B.C. have raised nearly $10,000 for the campaign by holding fundraising karma yoga classes and in-studio film screenings. Led by Eric Mathias, Moksha have extended their reach to include 25 yoga studios all across B.C. who have pledged to "Stretch Across B.C." and fundraise for Pull Together.
The fundraising initiative is rapidly spreading both online and off, as people recognize this is a strategic way to stop Enbridge — and send a powerful message to Ottawa.
"It's a big undertaking, but we're not alone," says Marilyn Slett, elected chief of the Heiltsuk First Nation. "We have people supporting us, really good people from all over the world and from B.C."
"It's a good feeling knowing that were standing together united in solidarity with British Columbians at large."
There's a saying among B.C. First Nations: many paddles, one canoe. Who knew stopping a pipeline could be so much fun?