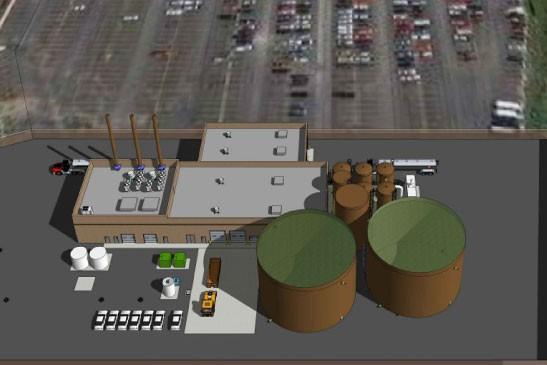 Source: Indian Country Today Media Network
By this time next year, the Forest County Potawatomi Community-owned FCPC Renewable Generation, LLC is anticipated to complete its food waste-to-energy facility in Milwaukee, Wisconsin.
The company recently broke ground on the copy8.6 million renewable energy facility in the Menomonee Valley that will convert liquid and solid food wastes to biogas through an anaerobic digestion process. The biogas will fuel two 1-megawatt generators to produce a total of approximately 2 megawatts of gross electrical power output—enough electricity to power about 1,500 homes. The power will be sold to WE Energies, the local electrical utility.
The "Community Renewable Energy Deployment" project, better known as CommRE, is being developed one block west of Potawatomi Bingo Casino on tribal land.
Construction of the facility is expected to create nearly 100 construction jobs at its peak and an additional five full-time jobs after completion.
"This project is an example of how renewable energy projects can benefit both the environment and the local economy. It will not only keep waste from our landfills, but also provides opportunities to partner with other local businesses and industries,"  Jeff Crawford, attorney general for the Forest County Potawatomi Community, told the Milwaukee Community Journal. "We hope that this project will allow others to see the many benefits that small-scale renewable energy projects can bring to communities."
Beyond the renewable energy facility, the Tribe is also currently developing a $36 million data center on the Concordia Trust property on Milwaukee's near west side and a copy50 million, 381-room hotel adjacent to Potawatomi Bingo Casino in the Menomonee Valley.
"The Forest County Potawatomi have called Milwaukee home for hundreds of years," said Crawford. "We are proud of our ongoing investments in the area which help make Milwaukee, and Wisconsin, an even better place live and do business."
Read more at
https://indiancountrytodaymedianetwork.com/2013/07/11/potawatomi-break-ground-biogas-plant-converting-food-waste-electricity-150372