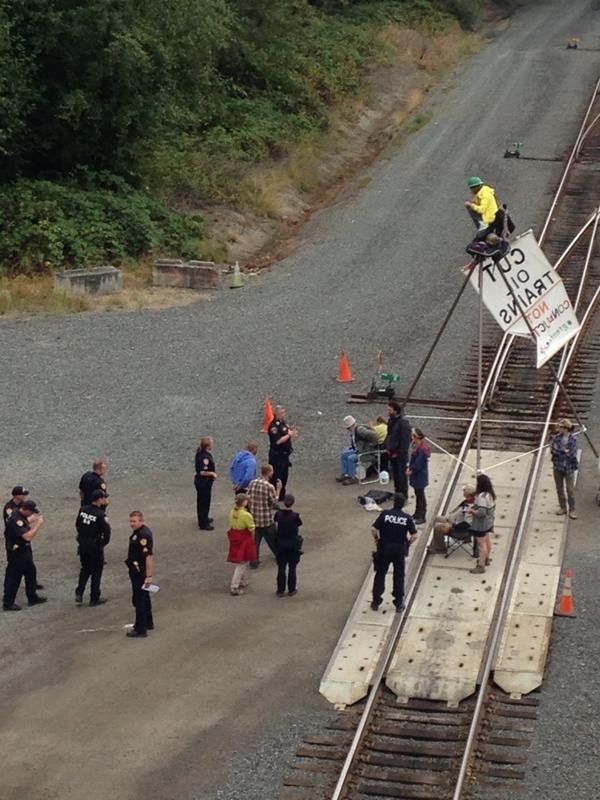 Around 6 am this morning, Abby Brockway—an activist, mother, and small-business owner—and a few others set up a tripod on northbound train tracks in Everett and have been blocking a BNSF train carrying Tesoro oil ever since.
"The view up here is beautiful," she said by phone a few minutes ago. "I saw an eagle." Police officers arrived on the scene about an hour or so after the tripod went up and have been trying to coax her down (she says they're claiming that if she descends voluntarily, they'll go easy on the charges and fines*). Firefighters with long ladders have approached to try and yank her down, but Brockway has a "blackbear" lockdown device that she uses to chain herself to the tripod in between phone calls.
"Lots of big truckers are honking in support, because we're also here in support of labor unions," Brockway said after I asked her about a caterwauling noise in the background. "BNSF wants to increase profits by decreasing train conductors and reducing inspections—its business is increasing, so I don't know why they'd want to cut costs, but they do." (BNSF has been pushing to reduce train crews down to a single person, which is not only bad for labor, but a potential safety problem—especially when we're talking about fossil fuels moving through populous areas.)
Brockway and the other activists, many of them affiliated with Rising Tide (you might remember that name from the preemptive visits they were paid by FBI agents last summer) say they're blockading the oil train for three major reasons:
First, they want to highlight the rapid growth of shipping oil by train—growth that also has been putting farmers in a pinch by delaying shipments of apples, grain, and even coal.
Second, they want to draw attention to how much money Tesoro devotes to campaign contributions (in our state, Democrat Suzan DelBene and Republicans Doc Hastings, Rick Larsen, and Cathy McMorris Rodgers have fed at that trough) and question whether that money has led to dithering about better regulation of fossil-fuel train shipments. "Governor Inslee is just one of those Democrats who knows what to do, but loves to just keep studying," Brockway said from her perch. "He needs to take a bolder move for our security."
Third, they want to highlight BNSF's attempts to cut down on labor costs by reducing the number of workers on any given train.
Delaney Piper, a spokesperson for Rising Tide, said most of the law-enforcement response has been from the Everett police, but that at least one FBI agent has shown up, as well as an officer covered in police gear but who is wearing no identification and refuses to answer questions.
Piper added that police kicked all of the supporting demonstrators—who, she said, have ranged between 20 and 40 over the course of the day—out of the rail yard, claiming that they had all already been arrested and might be arraigned because the police had taken photos of them trespassing. (That's a new one—I've never heard of arrest-via-photograph before.)
Brockway said she has provisions and plans to stay on top of the tripod for "as long as possible."
"I'm petitioning our government," she said. "I've tried standing in the streets, writing politicians on climate policy, going to hearings, I've never missed an election, I go to lots of marches and rallies, I've helped form alliances with tribal people in Washington State and also with railroad labor—they want jobs and we're not against jobs. But I want jobs that are sustainable and that make sense for this region instead of this carbon bubble, which is the most destructive thing. And when it's gone, those towns will be ghost towns."
A recent Tweet from Rising Tide:
* A quick reminder to everyone: Police saying they'll "go easy" on you in a courtroom is not a binding agreement. Moreover, police don't actually control what happens in a courtroom—lawyers and judges do. If you'd like to read an extended account of FBI agents and Seattle police officers making promises they can't keep about court proceedings during an interrogation, see this story. But always, always remember that any given law-enforcement official doesn't actually have control over what a judge or prosecutor will think or do.