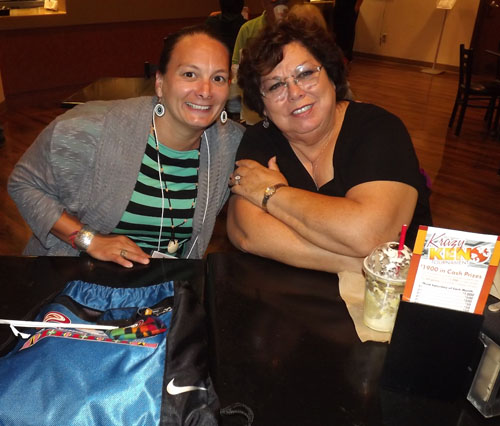 Submitted by Francesca Hillery Tulalip Tribes Public Affairs
Councilwoman Theresa Sheldon was elected to the Executive Council of the Affiliated Tribes of Northwest Indians (ATNI) at the annual convention, held September 22-25th and hosted by the Confederated Tribes of Umatilla, Oregon.  Councilwoman Sheldon will serve the ATNI Executive Council as Assistant Secretary.
Fawn Sharp (Quinault) was re-elected as ATNI president along with newly elected 2nd Vice President, Alfred Momee (Coeur d'Alene).
The Executive Council is responsible for upholding the policies and general direction, as set through various ATNI committees by way of resolutions, and to carry out the duties and directives as set by the Affiliated Tribes of Northwest Indians member tribes.
Councilwoman Sheldon has been an ATNI delegate for the Tulalip Tribes since 2006, where as a legislative policy analyst she wrote and submitted resolutions on behalf of the Tulalip Tribes on transportation, taxation, education, voting rights, homeland security, and law & justice.  She has served as the Native Vote co-chair for ATNI since 2008.
"The Affiliated Tribes of Northwest Indians is one of the strongest Native American organizations in the country.  This is a reflection of our determination to defend our treaties and to take care of our communities," said Councilwoman Sheldon.  "ATNI member tribes recognize the fact that we stronger together.  I am honored to serve as Assistant Secretary to the Executive Council and proud to represent the Tulalip Tribes on a regional and national platform," she concluded.
In 1953 Tulalip leader Sebastian Williams, along with other Northwest Tribal leaders, came together to discuss the need for a formal Northwest Indian organization.  This meeting formalized and created a constitution and bylaws for the Affiliated Tribes of Northwest Indian (ATNI).  Its purpose was "to form a united front against the IRS and illegal taxation of Native American tribes".   Immediately after ATNI was created, the termination era was introduced, that were federal policies meant to eliminate the political relationship between federal governments and the tribes, therefore dissolving all federal services to the tribes. Tribal leaders continued to meet and unite together over on-going issues of Indian healthcare, fishing rights, tribal sovereignty, and economic development.
ATNI is a nonprofit organization representing 57 northwest tribal governments from Oregon, Idaho, Washington, southeast Alaska, Northern California and Western Montana.  ATNI is an organization whose foundation is composed of the people it is meant to serve – the Native peoples of the Northwest.