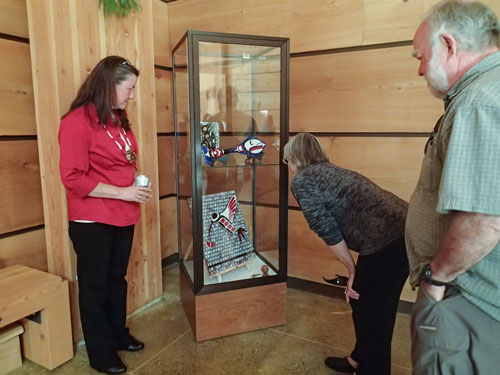 By Brandi N. Montreuil, Tulalip News

PORT ANGELES – Student artwork from the Northwest Indian College Tulalip Campus traveled 96 miles to the Longhouse Art Gallery at Peninsula College for a first-time exhibit. Northwest Indian College Art Classes is a compilation of the work of a dozen students and art instructor Bob Mitchell, which features art produced during NWIC's winter quarter.
Pieces included glass mosaics, basketry, beading, and handmade jewelry using various art mediums. The exhibit's centerpiece is a large story pole made with fused glass, featuring students' Native American culture using animal designs.
On June 5, the Peninsula College held a VIP opening, welcoming local guests and students.
"The class has really expanded," said Bob Mitchell, who began teaching art at the Tulalip campus five years ago. "We are doing glass fusing and jewelry. I can look over in class and see basket weaving and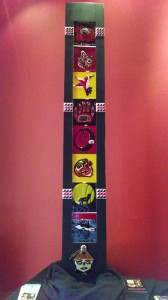 people passing on those skills to other people. The class is pretty student directed and the story pole is a good example of that. I came in with the idea and the frame, and we started thinking about how we could incorporate it into class. We gave everybody a panel and decided to do a theme and let everybody interpret it based on their culture. The student directive was they wanted to use traditional colors red, black, yellow, and white. We fused it and we finished with mosaic triangles that are a representation of bear claws from Tulalip."
The story pole's success means that future classes will be designing their own story poles. "The students bring a lot to the class with their skills. I feel very honored a lot of the time being in the class working alongside them. We need to show off what they are doing, so this is pretty impressive," explained Mitchell.
Current NWIC Tulalip campus student Monica McAlister, whose work in the exhibit includes basketry and glass mosaics, said working on the exhibit and class project helped to keep her connected to her Yurok culture.
"Being at NWIC is like a home away from home. It connects you to culture and with people that support you. It is really uplifting to be able to get that sense of community, which for me was lacking for a long time because I am not from here. I took Bob's class in 2012 and I fell in love with glass art. Art is such a big part of my life now and it makes me happy, and this all started because of NWIC."
The Peninsula College Longhouse Art Gallery will be showing the original artwork of Bob Mitchell and students from NWIC now through August. The exhibit features NWIC Tulalip campus students Monica McAlister, Louis Michell, Denise Michell, Ed Hill, Shirley Jack, Alicia Horne, Sarah Andres, Teesha Osias, Annette Napeahi, Raven Hunter, Tatiana Crawford, Mark Hansen, and John Martin.
For more information on the exhibit please visit www.pencol.edu.
Brandi N. Montreuil: 360-913-5402; bmontreuil@tulalipnews.com