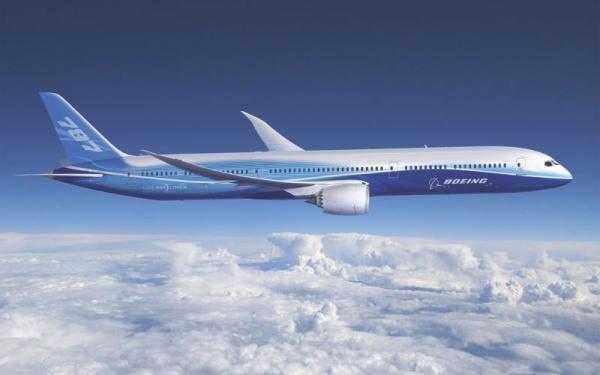 Jonathon GreyEyes has one word of advice for Native students interested in pursuing challenging, satisfying and well paid careers: STEM.
Okay, it's really four words—science, technology, engineering and mathematics. Those are the areas of study students should focus on in order to move ahead in the 21st century global workplace, GreyEyes says.
GreyEyes, a Navajo Nation citizen, is a small business liaison officer for the massive, multinational Boeing Company, the world's leading aerospace company and the largest manufacturer of commercial jetliners and military aircraft combined. Boeing also designs and manufactures rotorcraft, electronic and defense systems, missiles, satellites, launch vehicles and advanced information and communication systems. In short, the company is involved in everything that flies and/or uses technology, which is to say just about every business and employment opportunity in the global marketplace.
Grey Eyes says STEM is the smart career path for Native scholars. (courtesy Jonathon GreyEyes)
As a small business liaison officer, GreyEyes works to increase small and diverse business participation in support of the Boeing's company goals and objectives. As a Native American, he tries to engage Indian country as much as possible by seeking out not only small Native-owned businesses for Boeing to partner with, but also Native students who are potential Boeing employees.
"My responsibilities primarily are to maximize opportunities for small businesses of any type to participate [in] Boeing's activities," GreyEyes told Indian Country Today Media Network. "Now, being Native American, I've tried to seek out Native American companies to participate in the different research, primarily research and development."
Boeing and other large companies that receive government contracts actively recruit employees in the Native American community, GreyEyes said. "There's lots of opportunity in just about any field in which somebody would want to work. For most jobs a college degree is going to be required. I think across the board—not just in the Native American community, but in any group that you want to look at. We're seeing a decline in [students pursuing] the STEM fields…and so I would encourage students (and I'm encouraging my own children) to focus on these areas where they have an aptitude and an interest because there's a lot of opportunity in [these] fields."
One of the ways he seeks out both small Native-owned businesses and Native students is through the American Indian Science and Engineering Society, whose mission since 1977 has been to substantially increase American Indian and Alaska Native representation in the STEM fields—as students, professionals, mentors, and leaders, according to its website.
A young visitor to Boeing's Future of Flight tour.
The AISES national conference is one of the big annual events that Boeing supports every year. The company interviews and hires new employees there. "It's very important to Boeing to give everybody an opportunity to participate with Boeing either as an employee or as a subcontractor—and, fortunately, that's why people like me have a job maximizing opportunity!" he said. GreyEyes is a lifetime member of AISES as a Sequoyah Fellow. The program was named in memory of Sequoyah, who perfected the Cherokee alphabet and syllabary in 1821, resulting in the Cherokee Nation becoming literate in less than one year, according to the AISES website. "In this spirit, AISES Sequoyah Fellows are recognized for their commitment to AISES's mission in STEM and to the American Indian community. They bring honor to AISES by engaging in leadership, mentorship, and other acts of service that support the students and professionals in the AISES family," the site says.
What GreyEyes does at Boeing, essentially, is match jobs to businesses. He looks at the scope of work that the company intends to subcontract and then provides the program manager with as many opportunities and alternatives in terms of small businesses that can provide the services. "In the area of research and development it's typically very specialized. I don't get involved until it's [a job] over $650,000—that's a government threshold for requiring a subcontracting plan—so that would be a small contract and some of the large contracts would be in hundreds of millions of dollars."
GreyEyes said he loves his job and the most exciting thing is the variety of projects the company pursues. "I always tell people I'm living in a Star Trek world. Some of the contracts that we've won just stagger the imagination. I'm always amazed at the types of things we research. We have thousands of investigative researchers researching anything you can imagine," he said.
Boeing is the world's leading aerospace company and the largest manufacturer of commercial jetliners and military aircraft combined. (Boeing)
One of Boeing's recent innovations was the development of the Standoff Patient Triage Tool—an instrument Homeland Security dubbed as technology "to boldly go where no medical responder has gone before." The wireless gizmo can detect a person's vital signs—including whether a person is alive or dead—remotely from up to 40 feet away. The original intent was for battlefield use, but like other inventions developed for war the tool has numerous civilian applications including at fires, car crashes, mass casualties and other disasters.
Boeing has a number of programs that benefit its employees, including a program that pays employees to get graduate degrees, GreyEyes said.
There is a Native American affinity group to support the sizeable number of Native employees in the company, GreyEyes said. The group is organized regionally and nationally and is involved in all aspects including recruiting and mentoring Native students. "They might be showing them what life is like at a large corporation, helping them understand why education is so important and how it's going to benefit them when they come to a large corporation like Boeing.
"In addition, through AISES we talk students through all stages of their education from middle school on through graduate school, and we try to get them tied in to particular people at Boeing who might be good contacts for when they're ready to look for employment and then at events like the AISES national convention where we have several people doing active hiring and interviewing on site—members of the affinity groups are involved in all those stages, and it's not part of their job it's just something they do on top of it because it's important," GreyEyes said.
Once people are employed at Boeing, the affinity group brings everyone together to talk about what life is like there and whether any issues the affinity group should raise need to be addressed. "It's just general support for each other," GreyEyes said.
To view the range of job opportunities at Boeing, log onto its website at Boeing.com and click Careers on the menu bar.
Read more at
http://indiancountrytodaymedianetwork.com/2013/12/26/boeing-has-jobs-stem-students-152764