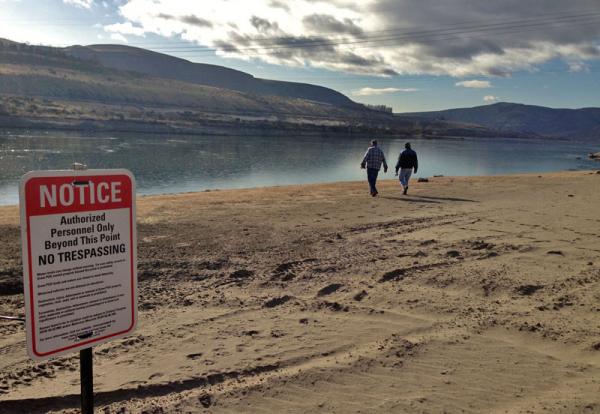 By Anna King, NW News Network
The drawdown of water behind Wanapum Dam in central Washington is exposing dozens of human gravesites and hundreds of Native American cultural artifacts.
Grant County officials are working overtime to protect these sensitive sites. And that work isn't cheap.
Grant County utility district says its spending about $600,000 a month protecting 80 miles of Columbia River shore. Sheriff's deputies, Grant County employees and state Fish and Wildlife officers are patrolling the riverbanks to keep gawkers and illegal looters away.
At the same time, a team of 25 archaeologists is finding and cataloging sites along the river shore.
Grant County utility district's Chuck Berrie says the area has a high density of ancient human remains.
"We know of over 20 cemeteries now along that stretch of the river. And there is a lot of people that just have no idea its illegal – looting it's a big deal."
Utility district officials hope to know the root cause of the dam's crack around June. By then protecting the shoreline and cultural resources could rack up to more than $2 million.
Officials say it's not clear yet, if they'll raise power rates to cover this expense.