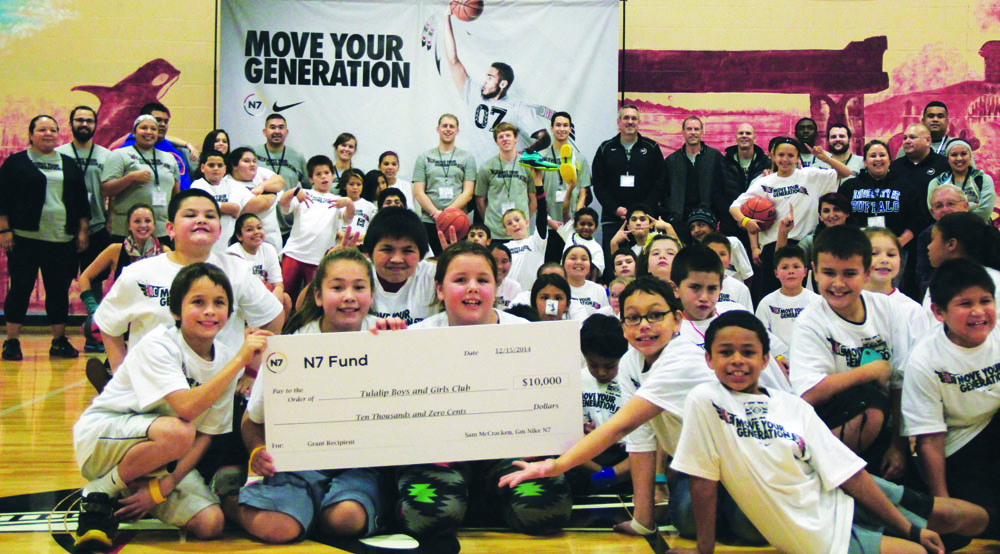 By Micheal Rios, Tulalip News 
During this past fall season Nike N7 ignited a series of 'move moments' across tribal and aboriginal communities in North America and Canada. Tulalip was among the very select few chosen to participate in the Nike N7 event. In all there were seven communities selected, three in Canada (Siksika, Six Nations of the Grand River First Nation, and the Aboriginal Friendship Center) and four in the United States (Gila River Indian Community in Arizona, Inter Tribal Sports in California, a Native Urban Center in Oklahoma, and the Tulalip Tribes).
"Tulalip was a community that we picked a few months ago. Every time we release product we like to do an event within the Native community," Tessa Sayers, Nike N7 Product Specialist, explains. "The latest Nike N7 holiday collection product is inspired by coastal design. We worked with an artist named Peter Boome, a Salish artist, and he worked with our Nike designers to focus on a collection that was inspired by coastal design. When we were picking communities we could only pick one community in Oregon or Washington, and partly why we chose Tulalip is because you have a Nike Factory Store where we sell Nike N7 product. So I called and spoke with Tori Torrolova (Athletic Director for the Tulalip Boys and Girls Club) who said 'Absolutely, we are game. Bring the event to us.'"
The goal of the N7 Move Moments is to inspire and enable youth to be physically active. They look a lot like mini-camps, but the Nike brand calls them 'move moments' because it is a moment in time they are getting the youth active and participating in a sport. This year the events were basketball themed, last year it was soccer. Bringing basketball into our community in an fun and energizing way that will inspire participants to move themselves and their generation is all part of the Nike N7 philosophy. N7 is inspired by Native American wisdom of the Seven Generations: In every deliberation we must consider the impact of our decisions on the seventh generation.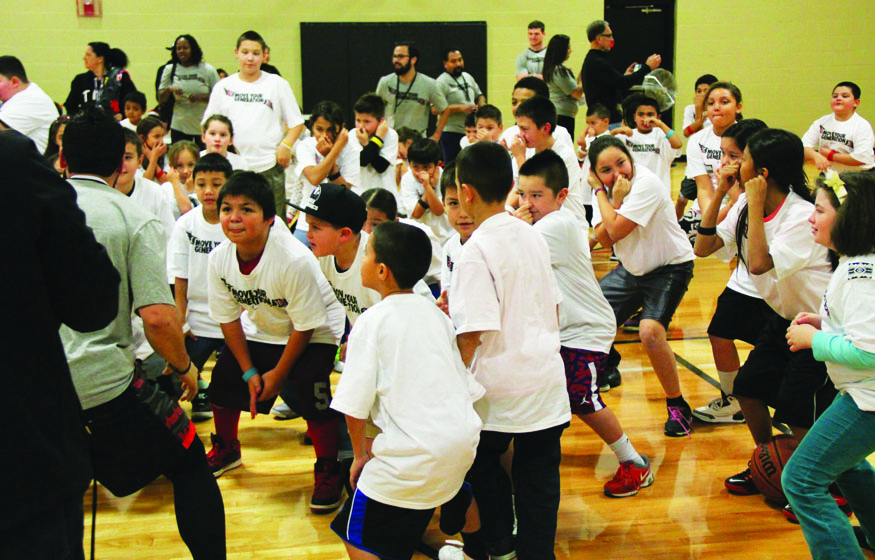 Nike originally planned to have the N7 Move Moment in Tulalip at the Boys and Girls Club during the month of November, but decided to push the date back in the wake of the Marysville Pilchuck High School shooting. Pushing the date back several weeks was part of Nike N7's plan to make the event much more impactful for the Tulalip youth.
"Everybody on the N7 staff and our media group are all Native American and this stuff we are naturally passionate about," Sayers says. "When we heard about the unfortunate incident that happened out here it was not something we had to think about, we called Tori and arranged to come out and actually put on the event with you guys and make it a bigger thing, so we can really bring something positive and uplifting to the Tulalip community. The other six communities had their 'move moments' on their own, but we decided to come up and bring our own trainers and put on the event for Tulalip. It was a no brainer for N7."
Unlike the N7 Move Moments that were held at the other six Native and aboriginal communities chosen, Tulalip was given twice as much product and equipment in order to allow up to 160 youth to participate. To further add to the significance for Tulalip the Nike N7 team personally delivered the product, spoke to our youth, and brought along a 12 person training crew to engage with our youth while participating in the activities.
Tulalip's very own specialized N7 Move Moment, titled 'Move Your Generation' was held Monday, December 15, 2014 at the Tulalip Boys and Girls Club from 4:30 p.m. to 8:00 p.m. Youth who participated in the event were provided with plenty of Nike N7 freebies upon entry. Nike N7 wrist bands, stickers, and t-shirts were among the free merchandise.
An estimated ninety 5-12 year-olds and thirty 13-18 year-olds, for a grand total of 120 Tulalip community youth, were inspired and enabled to be physically active while participating in the premium and energetic basketball experience.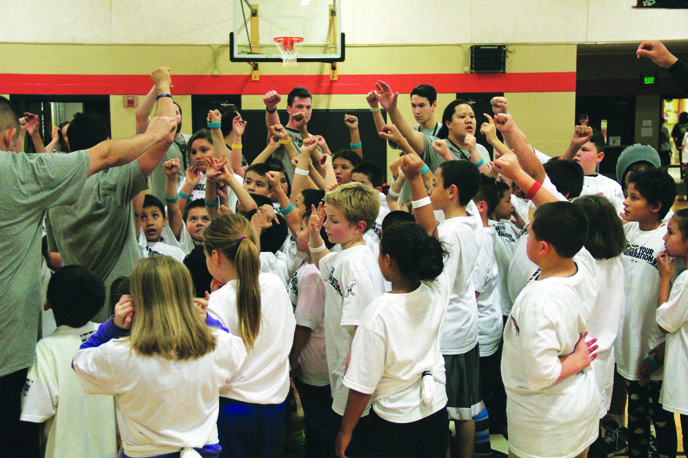 The Tulalip youth were treated to a 10 minute warm-up session by nationally certified strength and conditioning coach and trainer at Nike World Headquarters, Henry Barrera. Following the warm-up session the kids were broken up into five groups where they would alternate between 5 mini-camp stations, each one lasting 10 minutes.
The ball skills station taught basketball-specific skills, like alternating dribbles between both hands, basics of a crossover, and then a quick dribble into a crossover. The training cones station taught body control and body mechanics by having kids quickly change directions in a 5-10-5 agility drill. The mini-bands station taught stability and body control by placing a mini-band around the ankles and having participants perform a series of movements all the while stepping and stabilizing with each movement. The speed rope station taught rhythm, body control and coordination. Lastly, the agility balls station taught athletic stance and body control.
A special workshop was also added to the mix when Nike N7 decided to put on the event for Tulalip. Nike made it possible for Jillene Joseph, Executive Director of the Native Wellness Institute, to spend an hour with each age group (5-12 and 13-18). In her workshop Joseph promoted well-being through a series of activities that embrace the teachings and traditions of our Native American ancestors.
"We know your community is grieving and healing at this time therefore we wanted to bring you an uplifting, fun and energetic experience. We hope you leave here feeling invigorated, refreshed, inspired and motivated to take leadership among your community," said Sam McCracken, GM for Nike N7, to all the Tulalip youth and community members present.
Adding to the already youth impacting event, N7 surprisingly held a check ceremony in their evening wrap up. Boys and Girls Club executive staff members Chuck Thacker and Tori Torrolova were presented with a $10,000 grant award from the N7 Fund to the Tulalip Boys and Girls Club. The money will help support the club's athletic program says Torrolova. "Those funds I'm hoping to use to benefit our coaches, volunteers and people who constantly work with the program. Making sure kids are fed when we have home games and away games and snacks to take with us. All this money I want to concentrate on the athletic programs that we run here on a yearly basis."
After the N7 Move Moment was over, Torrolova took a moment to reflect on the evening's activities, "I think it turned out great and all the kids had a blast. They saw different ways of moving and using different types of equipment all the while everything was being tied to basketball. We received so much brand new basketball equipment thanks to Nike N7. Now, our staff and coaches have access to that equipment will use it for future practices and activities."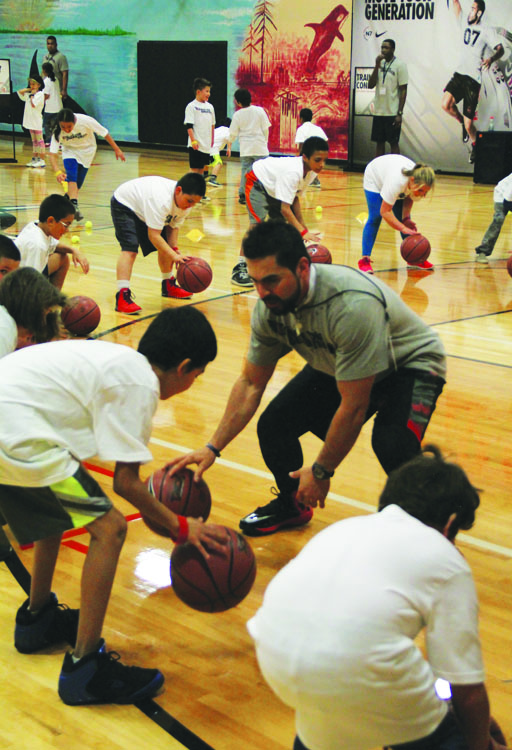 Micheal Rios, mrios@tulaliptribes-nsn.gov