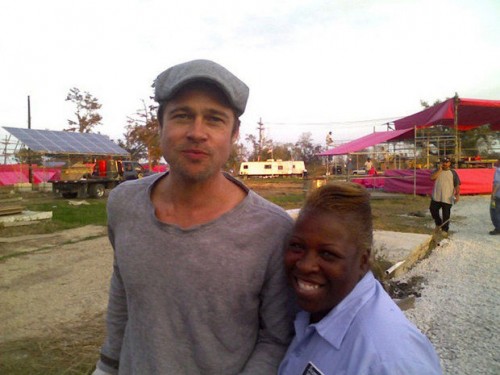 By Doug MacCash, The Times-Picayune
Brad Pitt's Make It Right Foundation is partnering with two Native American tribes in Fort Peck, Mont., to build affordable, high design housing, the website beforeitsnews.com reported Wednesday.
According to the report:
"Brad Pitt has been partnering with Fort Peck, MT's Sioux and Assiniboine nation tribes to build 20 super green homes for residents whose income levels are at or below 60 percent the area's mean income, with a percentage of the homes reserved for seniors and disabled veterans."
The Make It Right website defines the existing situation in Fort Peck in these terms:
"Currently, more than 600 people are waiting for housing. Overcrowding is a chronic problem on the Fort Peck Reservation, where multiple families commonly live together in two bedroom homes.
Make It Right's work on the Fort Peck Reservation began in June 2013 with community-driven design meetings. Tribal leaders and future homeowners met with Make It Right's architects and designers to discuss housing needs and vision for their new neighborhood. Construction is scheduled to begin in 2014.
The solar-powered homes will have 3-4 bedrooms and 2-3 bathrooms … Home ownership will be structured through a Low Income Housing Tax Credit Rent-to-Own program with ownership transferring to the tenant after 15 years of renting."
For architecture fans, the Montana development offers the opportunity to see Make It Right-style homes designed for a cooler, more arid prairie environment.
Pitt's Make It Right began as an altruistic effort to rebuild one of the most flood-ruined neighborhoods of New Orleans. Since 2008 a part of the Lower 9th Ward near the Claiborne Avenue Bridge has blossomed with 100 new homes.
In recent years, Pitt's organization has taken on somewhat similar projects in Kansas City, Missouri, and Trenton, New Jersey. As of June, there was only one Make It Right home under construction in New Orleans.
Watch Pitt discuss his vision for Make It Right in Kansas City in the video below.