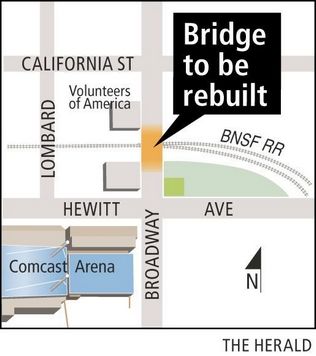 Noah Haglund, The Herald
EVERETT — As they puzzled over how to go about replacing the Broadway bridge, city engineers initially thought they would keep lanes open during construction.
Then they considered a complete shutdown.
Turns out, the city stands to save $1 million and a full year of construction time by closing a block on one of the main drags through Everett until the work is done.
Drivers can expect to find a massive roadblock there about six months from now, when the $9 million project is expected to begin.
"It's the pain calculus," Everett city engineer Ryan Sass said. "Do you want 100 percent pain for one year or 90 percent pain for two years? When you look at it that way, it's an easy choice."
The planned closure will prevent people from driving Broadway between Hewitt Avenue and California Street for up to a year. The city has planned extensive detours and intends to warn drivers well in advance, through signs along I-5 and Highway 529. A city public awareness campaign is in the works for later this year.
Drivers can be forgiven for not noticing the 101-year-old bridge, which looks like a hump in the road.
The bridge carries traffic over the Burlington Northern Santa Fe railroad tracks, with about 30,000 vehicles traveling it every day. The only major renovation occurred in 1931.
The city for years as listed the bridge replacement among its top infrastructure needs.
In the meantime, city engineers took precautions. Load restrictions were placed on the span in 2008. Parking isn't allowed on the bridge either. The structure is weaker toward the edges than in the middle, so trucks are asked to stay in the middle lanes.
The current schedule is to put the work out to bid in October. Prep work is expected to begin late this year and demolition in early 2014.
Construction should be complete by fall of next year, leaving only cleanup before it reopens.
The finished product will look similar, but not identical, to the arched Pacific Avenue bridge near Everett Station, Sass said.
"I hope we get another 100 years out of this one," he said.
Construction should have no impact on rail operations, BNSF spokesman Gus Melonas said. The railroad expects to expand freight operations with the approximate foot or so of extra clearance city engineers have said the new bridge would provide.
About $8 million of the cost is being paid for with a federal grant. The remaining $1 million will be split between Everett and BNSF.