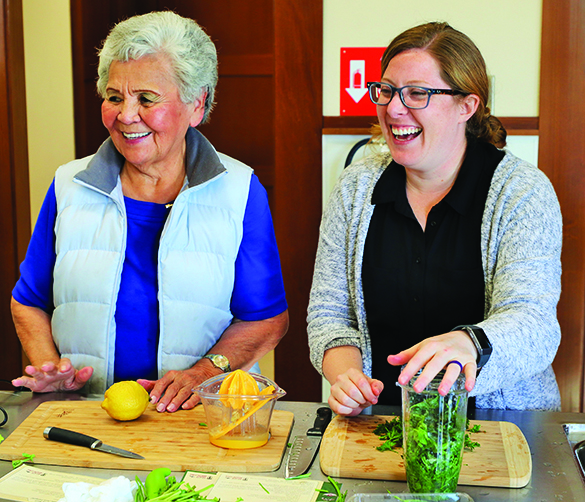 By Micheal Rios, Tulalip News 
Tulalip's own Diabetes Prevention Program is dedicated to making the community healthier by educating any and all motivated individuals who are willing to learn about nutritional awareness and healthy eating. With diabetes and obesity prevalence continuing to rise in Native communities throughout the United States, many families feel a need to change their eating habits, but just don't know where to begin. 
Adjusting to a healthier lifestyle and diet can be an overwhelming task, therefore, the Diabetes Prevention Program has created The Gift of Food & Good Health, an all-new series of cooking classes offering guidance and hands-on instruction. Hosted every Tuesday at the Tulalip Dining Hall from 3:00pm to 4:30pm, these classes are uniquely created for our people to enjoy while learning about the many health benefits of our foods. The classes are open to tribal members, their families, and patients of the Tulalip Health System.
The latest class, occurring on Tuesday, September 18, communicated the importance spices and herbs can have in creating healthy meals. 
"Herbs and spices make food tastier while boosting your health," shared Jessica Bluto, a registered dietitian and certified diabetes educator for the Tulalip Health Clinic. "We should all be cooking with herbs and spices regularly and, if possible, using several at a time."
Herbs, like basil, are the leaves of a plant, while spices, like cinnamon, are usually made from the seeds, berries, bark, or roots of a plant. Both are used to flavor food, but research shows they're chock-full of healthy compounds and may help prevent illness and disease.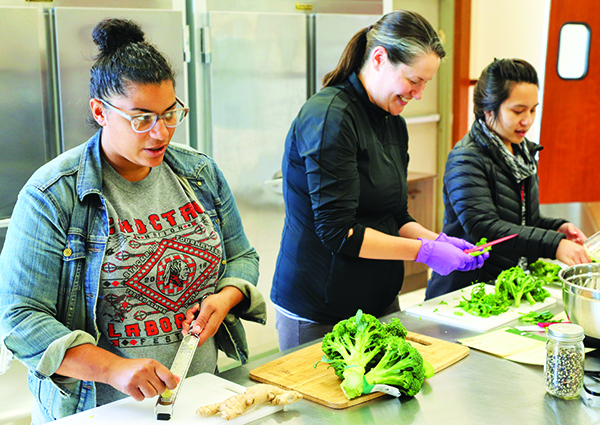 Adding herbs and spices to your diet has another benefit, "Because they're so flavorful, they make it easier to cut back on less healthy ingredients like salt, sugar, and added fat," explained culinary chef Brit Reed. "Herbs and spices contain so much nutritional value, from cleaning out toxins in your blood to fighting inflammation to even lowering blood pressure. We're all about promoting healthy foods habits that can really make a difference with a variety of health issues our people may be going through."
Tulalip elder Marvin Jones attended the September 18 session as a first-timer. He enjoyed learning about the variety of health benefits herbs and spices can offer, even though he admitted to not enjoying the flavor of most of them.
"I don't like the taste of most seasonings, but I'll try to eat them and come up with a combination that works for me because I want to eat better," said Marvin while going through the process of mincing garlic. "I want to learn to cook healthier foods and meals. These classes will help me with that."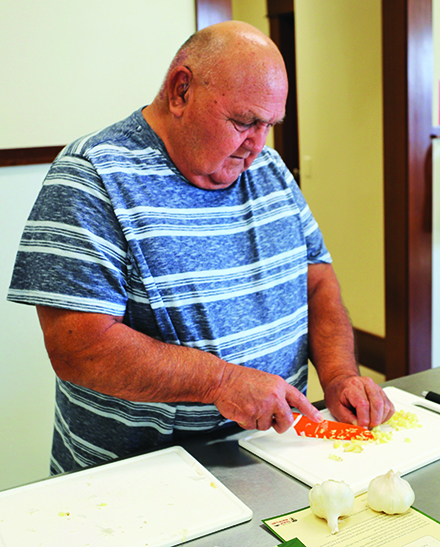 The exciting hands-on learning experience walked each class attendee through the food preparation process, to the large Dining Hall kitchen for cooking as group, and then back to the table where a grilled chicken and broccoli meal was enjoyed by all. The meal was made flavorful with the aid of garlic (anti-inflammatory), basil (digestive aid), ginger (nausea reducer), and thyme (antimicrobial), along with a variety of fruits and vegetables.
"The staff here have been so helpful in teaching me which foods to eat more of and how to make sense of a nutritional label," shared Joyce Alexander, a Haida elder. Joyce routinely attends healthy cooking and food classes offered by the Diabetes Prevention Program. "I was diagnosed with border line Diabetes two years ago and was told by the doctors it could be reversed by changing the foods I eat. Since then, I've lost nearly 52 pounds just by changing my diet and staying away from processed foods. I've taken back control of my life and it feels great."
The Gift of Food & Good Health series will continue next Tuesday with a class dedicated to tender, juicy steak. As always the Diabetes Prevention Program welcomes any community members interested in learning about the many health benefits of food. 
"There is so much information available about healthy eating and cooking skills, and we want to aid, however we can, in our people being comfortable applying these skills in their daily lives," said Chef Brit. "This series of classes will cover a whole range of health benefits. And don't worry if you can't make them all. If you can make time to attend just one or two, we'd love to share a nutritious meal with you."
To find out more information about The Gift of Food & Good Health series please contact Brit Reed, Diabetes Program Culinary Services Provider at 360-716-6594 or Veronica Leahy, Diabetes Program Coordinator at 360-716-5642.