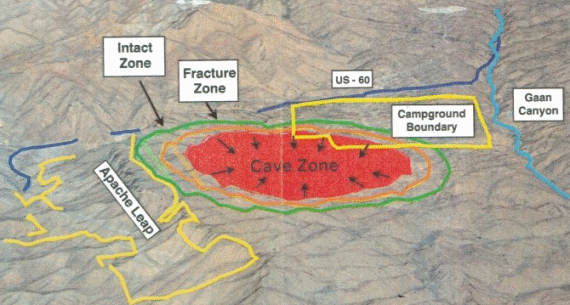 Source: Native News Network
WASHINGTON – The California Tribal Business Alliance (CTBA) is voicing its opposition to the Southeast Arizona Land Exchange and Conservation Act of 2013, HR 687.
This House bill would authorize a land swap in Arizona between the federal government and the Resolution Copper mining company in order to facilitate the extraction of mineral resources from government lands.
California Tribal Business Alliance recognizes that there are a number of significant fiscal and public policy implications surrounding the legislation. The legislation and ultimate land swap will result in economic stimulus and the extraction and use of valuable ore. However, it does so at a cost. The legislation will also result in the loss of irreplaceable sites sacred to Native Americans.
It will remove protections for the environment.
Moreover, it does so without engaging the respective tribes in any meaningful government to government consultation in regard to their sacred cultural resources or surrounding environment.
This is in direct conflict with existing policies and laws, such as, the Memorandum of Understanding executed in December 2012 among various departments to coordinate and collaborate with tribal governments for the protection of Indian sacred sites. It also conflicts with the President's Executive Order of June 2013 which establishes a national policy to ensure that the Federal Government engages in meaningful consultation with tribes on any policies affecting tribal nations. Moreover, the legislation establishes timeframes to complete the analysis of any historic or sacred sites in the exchange area that are inconsistent with the requirements of the Native American Graves Protection Act and the National Historic Preservation Act.
We are at a time in history when the Federal Government is moving in a direction to establish and strengthen policies for meaningful government to government consultation with tribal governments and to protect tribal sacred sites and resources. HR 687 would retard the current policy direction and place native peoples' heritage and sacred resources at risk, and it does so without affording the tribes the benefit of any meaningful consultation. For these reasons, the California Tribal Business Alliance is opposed to HR 687.
The House finished their business for the day without having the final vote on the bill. They also only voted on two out of the three amendments offered, both of which failed. An amendment offered by Representative Ben Lujan, D-New Mexico, that will be considered on the floor that gives
"the Secretary unilateral authority to remove Native American sacred and cultural sites from the conveyance in consultation with affected Indian Tribes."
A recorded vote was requested on the Lujan sacred sites amendment, but further action was postponed. We expect votes on both the amendment and the final bill to take place early next week.
The California Tribal Business Alliance urge you to join them by contacting your local member of Congress to articulate concerns about HR 687.