Governor Inslee Is Now Weighing the Acceptable Cancer Rate for Fish Eaters Against Business Concerns
By Ansel Herz, The Stranger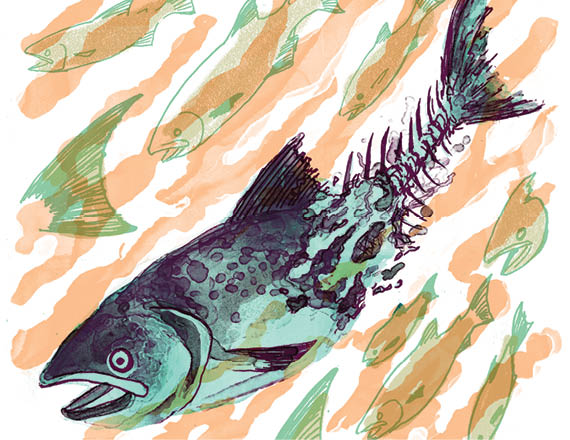 Washington State has two choices: a 10-times-higher rate of cancer among its population, particularly those who eat a lot of fish, or a bedraggled economy. That is, assuming you believe big business in the long-running and little-noticed debate over our "fish consumption rate," a debate that Governor Jay Inslee is expected to settle, with significant consequence, within the next few weeks.
The phrase "fish consumption rate" sounds arcane and nerdy, for sure, but it really matters, and here's why: There are a plethora of toxic chemicals—things like PCBs, arsenic, and mercury—that run off from our streets, into our waters, and then into the bodies of fish. The presence of those pollutants puts anyone who eats fish (especially Native American tribes and immigrants with fish-heavy diets) at higher risk of developing cancer.
Knowing this, the state uses an assumed fish consumption rate (FCR) to determine how great cancer risks to the general population are and, in turn, to set water-cleanliness standards that could help lower cancer rates. Currently, Washington's official fish consumption rate is just 6.5 grams per day—less than an ounce of fish. Picture a tiny chunk of salmon that could fit on your fingertip. That's how much fish the state officially believes you eat each day. But that number is based on data from 40 years ago. Everyone admits it's dangerously low and woefully out of date.
Three years ago, Oregon raised its FCR up to 175 grams (imagine a filet of salmon), the highest in the nation. Now it's up to Governor Inslee to update Washington's FCR. Jaime Smith, a spokesperson for the governor, says he'll make the final call in the next few weeks. Meanwhile, as with anything else, there are groups lobbying Inslee on either side. The business community—including heavyweights like Boeing, the aerospace machinists, local paper mills, the Washington Truckers Association, and the Seattle Chamber of Commerce—want our FCR to be lower. In a letter to Inslee on April 1, they warned that a higher FCR would result in "immeasurable incremental health benefits, and predictable economic turmoil." In other words, the letter says, a one-in-a-million cancer risk for people who eat a lot of fish would hurt the economy, while a one-in-a-hundred-thousand risk is more reasonable.
Smith, the governor's spokesperson, says the governor wants to raise the FCR in a way "that won't cause undue harm to businesses. Obviously business has a stake in this."
But, Smith says, "at the same time, we have people who eat a lot of fish." Businesses have hired consultants who've painted worst-case scenarios, she explains, "that probably aren't realistic."
At the end of the day, does the governor's office have any evidence that raising the fish consumption rate would actually kill jobs? "Not necessarily," Smith says. She hinted that Inslee will raise the rate to a number close to Oregon's.
In fact, businesses like the Northwest Pulp and Paper Association made the same dire predictions before Oregon increased its FCR to 175 grams per day. What happened? "We are not aware of any business that has closed that was directly attributable to those rules," says Jennifer Wigal, a water quality program manager for the Oregon Department of Environmental Quality. Were there job losses? "Not that I'm aware of," she says. Broadly, Oregon employment rates have continued to trend upward since the recession, while the job availability in the paper and pulp industry, she says, has long been slowly declining.
Opposite the business community are Native American tribes, environmental groups, public-health experts, and the Seattle Human Rights Commission. (In a strongly worded March resolution, the commission said the state should raise its fish consumption rate to same level as Oregon's.) Jim Peters, of the Squaxin Island Tribe, says the waters of Puget Sound, where tribal members have always fished, need to be better protected from pollutants. "It's part of our life," he says. "It's part of our culture." The tribes are "pro jobs," Peters says, but "Boeing has been unwilling to come and talk with us."
This is a defining moment for Inslee: Where he sets this number, the FCR, will send another signal about his willingness to stand up to Boeing (after his support of $8.7 billion in taxpayer subsidies for the company last year). It will also show whether or not he's serious about following through on his commitments to do battle on behalf of the environment, promises he ran on. So keep an eye out. And in the meantime, says University of Washington public-health professor Bill Daniell, don't eat the fish near Gas Works Park.