"When you're on the water, you know that you're celebrating your ancestors and taking care of your spirit"

-Tulalip tribal member, Sydney Napeahi.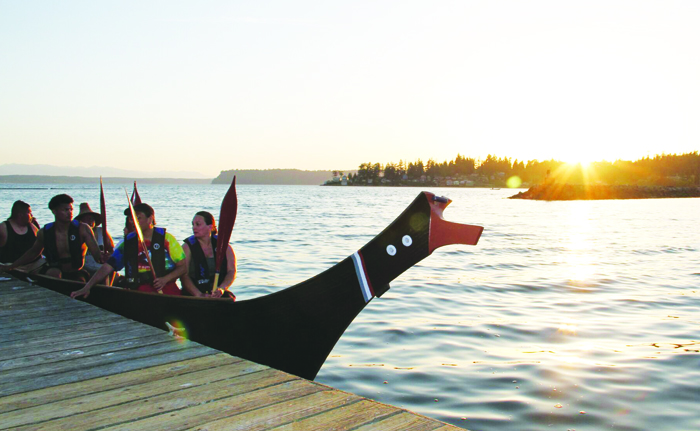 By Kalvin Valdillez, Tulalip News 
As the cedar dugout canoe, Big Sister, pulled out of the Marina and into the waters of Tulalip Bay, the pullers were singing the traditional songs of their people. The Lushootseed chants began to fade as the canoe journeyed across the water, traveling to Hermosa before returning back. Big Sister enjoyed two pulls on the evening of May 14, as numerous community members gathered to participate in canoe practice during the gorgeous springtime weather. The Tulalip Rediscovery Program and Tulalip Canoe Family are holding canoe practice at the Marina twice a week in preparation for this summer's upcoming Canoe Journey, the 2018 Power Paddle to Puyallup. 
The Canoe Journey is an event that has been celebrated by Northwest coastal tribes since the early nineties. Originally inspired by the Paddle to Seattle in 1989, the summertime event unites several tribal and first nations communities to celebrate Indigenous culture. The tribes take turns hosting the event every year, in which thousands of Natives paddle in traditional cedar canoes from tribe to tribe until reaching their final landing destination. A weeklong cultural celebration takes place once all the canoes have arrived and tribes showcase their traditional songs and dances to pass their ancestral teachings onto the next generations.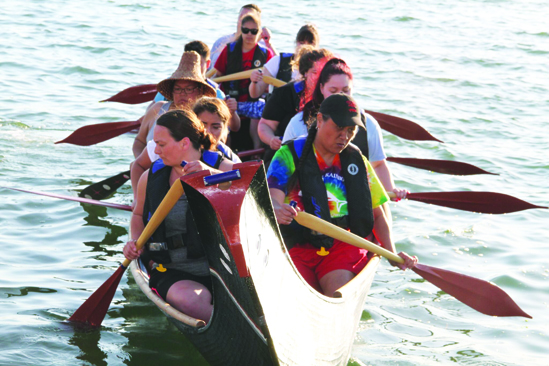 The Tulalip Canoe Family often navigates the water in a cedar strip canoe known as Big Brother. But while he was receiving minor maintenance, Big Sister got to travel the glistening waters of the bay. Taking Big Sister out on the water was a huge honor for the pullers who know the history of the dugout canoe.
"Big Sister was the first canoe to come back to Tulalip in more than a hundred years," explains Andrew Gobin of the Rediscovery Program and skipper of the Tulalip Canoe Family. "It was carved by Jerry Jones and Joe Gobin and made for the Paddle to Seattle in '89. It came from the National Forest from an old growth cedar. Big Sister is a dugout which is a traditional style. She's a little more narrow than Brother which makes her a little bit more tipsy, so it's important to be disciplined on the water. It's important to pull together. It was good for [the participants], they got to get a taste of the difference between the canoes."
Andrew stated that the Paddle to Seattle was the start of a cultural revitalization amongst Coastal Natives. 
"That's when our people really got back in touch with the canoes," he says. "These are things we knew were our ways, but not everyone had been able to experience. So in '89, there was that resurgence. Life was brought back into the canoes and the Canoe Journey was born out of that."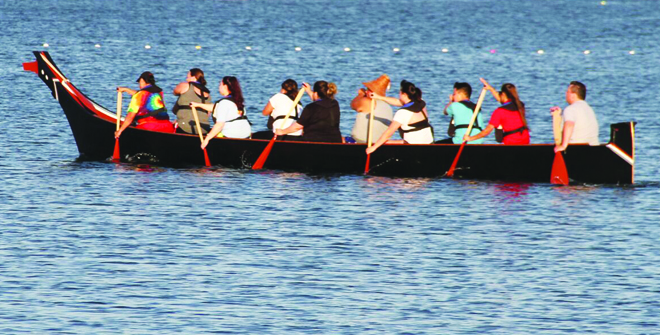 Since its start, Canoe Journey has been a cultural event in which many people participate as means to heal, since it's a drug and alcohol free event. Although Journey sees a mix of multi-generational participants, a large population of pullers, singers and dancers are comprised of the youth. 
"I feel like this entire experience helps us connect with our culture and get back to our roots," says young Tulalip tribal member, Marie Myers. "I love singing and how everyone works and pulls together."
"I came out to practice today so I know what to do when we're out there on the water. I think it's important for other kids to participate so they can learn about their culture," added Marie's brother, Nathan Myers. 
Marie and Nathan will be pulling in Canoe Journey for the first time this year and are excited to travel the open waters. The crew knows the importance of practice to be prepared for pulling for hours at a time along the coast. 
"There is no workout that can prepare you for how you'll feel when you're on the canoe, so the best practice is just getting out there and doing it," states Tulalip tribal member, Sydney Napeahi. "It was a beautiful day and I love being on the canoe. The canoes have a spirit, we have spirits and the water has a spirit and it's important that we all take care of each other and that we celebrate each other. When you're on the water, you know that you're celebrating your ancestors and taking care of your spirit."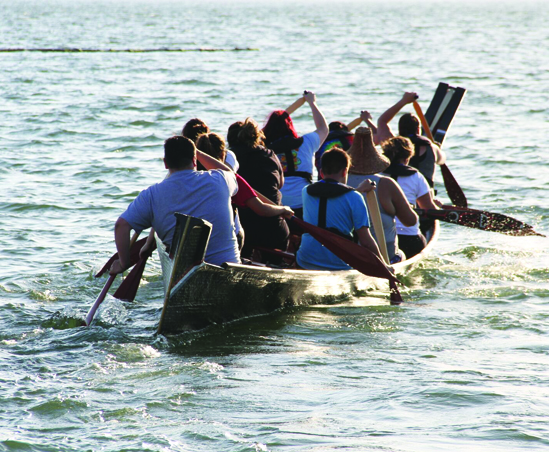 "These canoes belong to the people," says Andrew. "This journey is honoring the medicine and that's something we want to do this year. There's medicine all around, there's knowledge all around. It's just putting people in touch with that. I was just telling [the crew], out on the water, that if we stay together, pull together and pull strong, that's what's going to pull us through. I think they're having fun, when we got back everyone was smiling."
After an evening of pulling, a group of youngsters had to jump into the bay after breaking the golden rule of Canoe Journey and mistakenly referring to the canoe as a boat. The kids were more than excited to dive into the cool water on the warm evening and even recruited some of their friends to join in on the fun.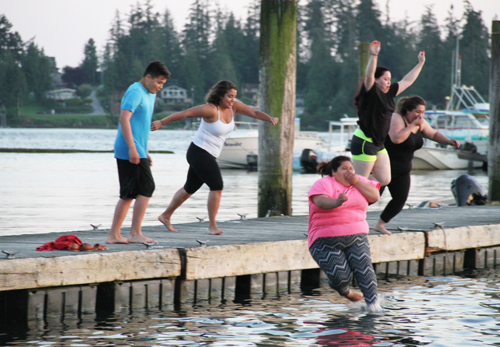 Canoe practices are currently held on Mondays and Wednesdays at 5:30 p.m. and will continue until the Power Paddle to Puyallup begins in July. For more information, please contact the Tulalip Rediscovery Program at (360) 716-2635.