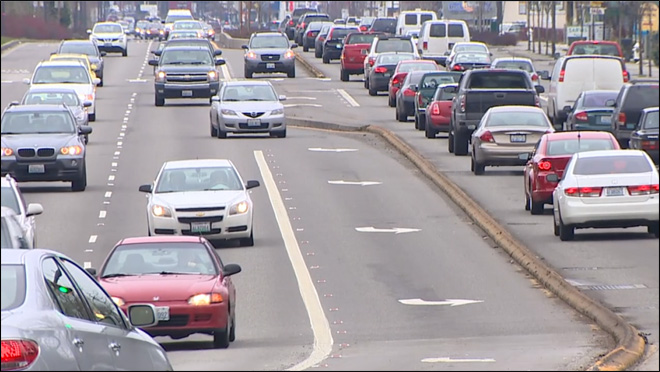 By PHUONG LE, Associated Press
SEATTLE (AP) – Greenhouse gas emissions in Washington state dropped by about 4.6 percent between 2010 and 2011, led by reductions in emissions from the electricity sector, a new state report shows.
The latest data shows that about 91.7 million metric tons of carbon dioxide or its equivalent was released in 2011, compared to about 96.1 million metric tons the year before.
Emissions are on a downward trend, but still about 4 percent higher than in 1990.
The report comes as Gov. Jay Inslee is proposing sweeping policies to combat climate change, including a cap-and-trade program that would charge large industrial polluters for each metric ton of emissions they release.
Republican lawmakers say the cap-and-trade program would raise gas prices and hurt businesses and consumers. They say the state is already a low-carbon producing state because of its extensive hydropower, and that there are other, cheaper ways to reduce carbon pollution.
The state's emissions have fluctuated each year, but overall have decreased since 2007, according to the inventory, which the Department of Ecology posted on its website last week. The agency is required to complete the report every two years.
The decline between 2007 and 2011 is due to actions the state has taken to reduce emissions, including requiring major utilities get a portion of their energy from renewable sources, said Hedia Adelsman, special assistant to Ecology Director Maia Bellon.
She noted that the state's carbon emissions have grown from 1990 levels, when the state released about 88.4 million metric tons of carbon.
A state law requires Washington to reduce overall emissions to 1990 levels by 2020, make a 25 percent cut in 1990 levels by 2035, and make greater reductions by 2050.
"We still need to take action. We are making a lot of progress but there's still work to do," Adelsman said. "We need comprehensive policies to make sure we not only get to 2020 but 2035."
Some leading Republicans have challenged that statute, calling them "non-binding goals."
According to the report, yearly fluctuation is due in large part to changes in the state's production of hydroelectricity.
A drought in 2010, for example, led to lower hydropower output that year, requiring utilities to buy more coal and natural gas power that release more carbon emissions than hydropower. In 2010, hydropower was running 60 percent, compared to about 73 percent in 2011.
Transportation made up the largest chunk of emissions with about 46 percent of the state's emission, or roughly 42 million metric tons in 2011. On a per person basis, the state produces slightly less emission from on-road gasoline than the national average.