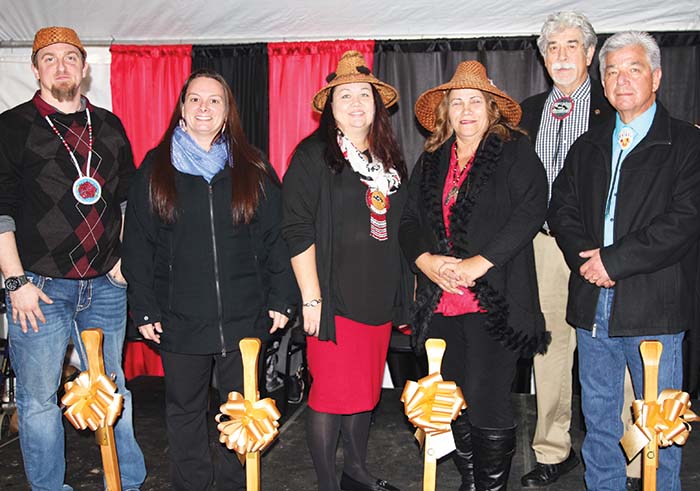 By Micheal Rios, Tulalip News 
Members of the Tulalip Tribes, various officials, and employees were in attendance at a groundbreaking ceremony held at the future site of the new Quil Ceda Creek Casino (QCC) on Tuesday, December 12.
"I raise my hands to everyone who came here to celebrate with us," greeted vice-Chairwoman, Teri Gobin. "What an honor it is to take part in this journey for the Tribe. It's so exciting we're finally doing this groundbreaking, and to think what it means for the Tribe and our community, creating new jobs and helping with economic development. This will be a good project for our whole community and the surrounding communities that benefit from our type of development."
The multi-million dollar project to relocate the QCC facility from its current location to a sixteen-acre property across the street is based on a number of factors, the most prominent being a stagnant revenue stream that is unable to grow due to logistical and structural challenges posed by the current facility.
"We're replacing [the existing QCC] because it is bursting at the seams," explained Les Parks, Board of Director and Treasurer. "The revenue cannot grow anymore, they are using every square foot they can, and our customers are screaming for more machines and a hotel to stay at. This new journey is going to get us there."
The project cost is "rolled into the $155 million syndicated loan that includes the new Quil Ceda Creek Casino and hotel, its parking structure, and the future Gathering Hall," continued Les. "This is the same amount that was approved by General Council two years ago. Without increasing the loan amount, we were able to add in the hotel by extending the deferred payment process, which is typical of loans we do, to put more money towards actual construction."
The new casino will span across 110,000 square feet that will allow for 1,500 gaming machines, a lofty increase from the current 1,000 operating at the existing QCC. Besides the additional 500 machines, there will be additional table games, an innovative dining hall experience, an upgraded entertainment venue, and a state of the art smoke elimination system included in the new QCC.
In recent weeks, the Tribe announced the new QCC with also feature a 150-room hotel and 1,200-stall parking garage. The property will be called Quil Ceda Creek Casino Hotel and is expected to open in spring 2019.
"We have a tag phrase: 'It's not just bigger and better, there's more to love'," stated Ken Kettler, President of Tulalip Gaming Operations. "When you think about it, we're just expanding on the experience we have today and we're going to give you more of it. It keeps us competitive and protects the current revenue stream. The competition is pretty tough out there, so we, as a leader, have to step up and set the example of what can happen at a local's casino."