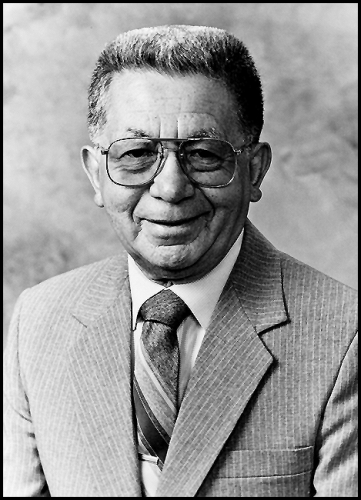 Charles "Red" Sheldon (98) passed away peacefully on March 15, 2015.
Born in Tulalip to Robert and Sarah (Charles) Sheldon, Charles served in the Army during WWII, after surviving Indian boarding school and the depression where both he and Thelma gained skills that gave them the ability to be self-sufficient.
Married to his first wife Thelma Townsend, he raised her 1st born Marlene as his own. After their divorce he found a loving partner in Helen Forrest and he treated her children as his own; Nan (Harold) Lippoid, Suzie (Craig) Thompson, and Ken Forrest.
Charles was a member of VFW#13 of Everett, and was still attending dances there until recently. Charles was also a proud member of the Tulalip Tribe and served on the board of directors for 17 years.
Charles enjoyed traveling and saw the world throughout his life, after retiring from (Norm) Buse Mill after 36 years.
Charles is preceded in death by his parents; Robert and Sarah Sheldon; his previous wife, Thelma (Townsend) Sheldon; and loving partner Helen Forrest; and his siblings, Angelina Brown, Sebastian "Sub" Williams, Martin Williams , William "Taft" Sheldon, Louise Ledford, Bernie Williams, Katie Gates, Lawrence "Buster" Sheldon, and Linnette "Nettie" McKay, and granddaughter Sarah Ann Wilson.
Charles is survived by his children, Charles R. Sheldon Jr., Marlene (Tobey) Beltran, William "Sonny" Charles Sheldon, Byron Lee Sheldon, Lita Jane "Koko" (Jack) Mowrer, and Karen (Morris) Zackuse; grandchildren, Brandon Bryant, Morgan Bryant, Julie Wilson, Emily Wilson, Rachel Mowrer, JD Mowrer, Max Mowrer; and great grandchildren, Tycen, Aiden, Avery, Harley, and Henry.
A very special thank you for those who help care for Charles: Marlene Beltran, Roberta "BN" Belanich, Brianna Cordova, Emily Wilson, Ryan Negrete, and Providence Hospice. Charles will be deeply missed by those who loved him.
Viewing service was held on Tuesday March 17, 2015 at 1 p.m. with an interfaith service following at the Tulalip Gym. Services were held Wednesday March 18, 2015 at 10 a.m. followed by burial at Mission Beach Cemetery.