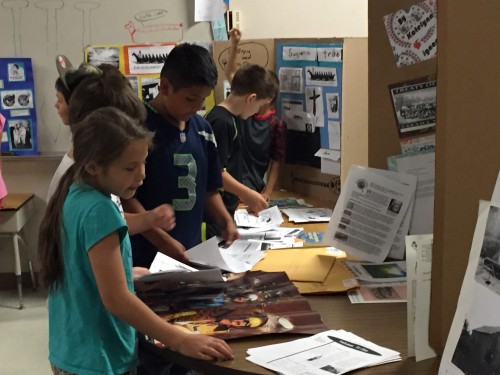 By Brandi N. Montreuil, Tulalip News

TULALIP – In the midst of summer excitement, third graders from Quil Ceda Tulalip Elementary School presented the last project of the school year to their peers, which incorporated the Since Time Immemorial curriculum. On Thursday, June 11, third graders hosted a mini cultural fair where they presented information on six tribes they had been studying. The cultural fair is an example of the unique learning environment cultivated at the school, which serves a large population of Native students in the Marysville School District.
The school's cultural specialist Chelsea Craig worked with students on a six-week project in which they chose a tribe to study and present what they learned about the tribe. Chosen for study were the Muckleshoot, Nooksack, Tulalip, Spokane, Suquamish and Yakama Tribes, along with Afognak Village located in Alaska.
As part of the project the students were asked to contact their chosen tribe to learn first-hand about the tribe's history and culture. Many of the students were provided letters of support for the project containing information about treaty rights, economic development and tribal history. One tribe even provided a DVD for students to watch.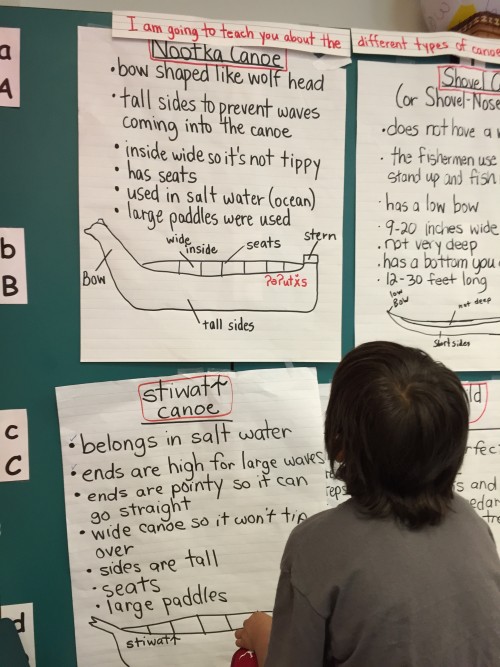 Jimmy Faria chose to study Nooksack. Before the project he knew nothing about the tribe of 2,000 members. "I wrote to them and they actually wrote me back. You will learn a lot about tribes here. I learned the difference between how a coastal tribe builds a house and how a plains tribes build a house," said Jimmy, who handed out brochures on Nooksack he created using the program Publisher.
The project provides a great example of how STI works in schools. STI helps addresses the need for Native representation in class lessons. It provides a basic framework of Indian history and understanding of sovereignty for grades k-12. Lessons can be adapted to focus on tribal history and culture, such as Mrs. Deveraux's class which completed a writing assignment that focused on canoes. Students learned how canoes were made, cared for, and their importance to Coast Salish tribes. This is a great example of how STI curriculum can be integrated into lessons. Tribal components can be added to each learning subject, for example math students can learn the dimensions of different Coast Salish canoe styles, or in reading students can read about tribes using canoes for transportation or art assignments can include designing mock canoes, as tribal carvers do. This is how STI works.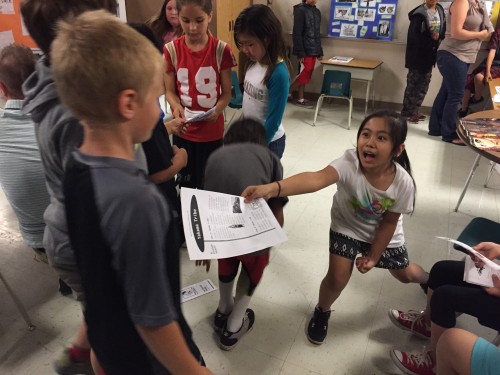 "They were so thrilled to write to the tribes and wait for a response," said Craig, "A lot of these students are learning about tribes for the first time while others are learning more about their own tribes. This work is about empowering them. It really is amazing to see how passionate they are about learning this stuff."
For more information about STI please visit the website www.indian-ed.org.
Brandi N. Montreuil: 360-913-5402; bmontreuil@tulalipnews.com