November 7, 2013 By
Amy Fletcher
Juneau Empire
When Clarissa Rizal completed her apprenticeship with 96-year old Chilkat weaver Jennie Thlunaut in 1986, she wasn't fully aware of the responsibility she'd been entrusted to carry. She didn't know that Thlunaut, one of the last and finest Chilkat weavers of her generation, had taken on only one other apprentice, her daughter, who was no longer living. Rizal also didn't know that only a very few other women, such as Maria Ackerman Miller, possessed an in-depth knowledge of Chilkat weaving traditions at that time.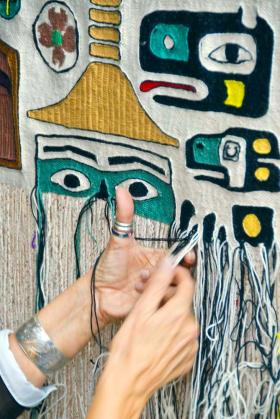 When Thlunaut herself died just a few months after their apprenticeship was complete, and Miller a few years later, Rizal gained a keen awareness of the importance of her role in carrying her mentor's teachings forward.
Nearly 30 years later, sharing Thlunaut's teachings is still a huge part of Rizal's life, but the sense of urgency she felt in her 20s is gone. In the last few decades, the art form's fragile position in being understood by only a few weavers has been strengthened by a wave of renewed interest across multiple generations of Tlingit women, and a few men.
"If Jennie Thlunaut could see the number of weavers out there now who are actually weaving, it would make her so happy," Rizal said. "At the time — 30 years ago — she couldn't find anybody."
Some of these committed weavers will be gathering for a public weavers' demonstration at the "Sharing Our Knowledge" conference over the next three days at Centennial Hall. The demonstration, which will include Chilkat, Ravenstail and cedar bark weaving, will take place off the lobby of the conference center. Those who aren't attending the conference can access the weaver's demonstration on Friday from 1 p.m. to 6 p.m. and Saturday from 8:30 a.m. to 5 p.m. Admission is $5 for those who are not participating in the conference and includes access to the conference's artists' market.
The demonstration was organized by Lily Hope, Rizal's daughter, who, like her mother, weaves and teaches both Chilkat and Ravenstail styles. Hope said she's lined up nearly 20 weavers, who will share works in progress, talk about materials and techniques and answer questions from the public.
Hope, who won first place in the 2010 Sealaska Heritage Institute's Juried Art Show in the traditional category for her weaving "Copper Child," will be among the weavers demonstrating Chilkat in the lobby.
Rizal, who is in Colorado and probably won't make it to this year's conference, said the last time the weavers held the demonstration, at the 2009 clan conference, it was a huge hit. Initially scheduled for a two-hour slot, the event spilled over into an all-day event due to public interest.
In the intervening years, interest in weaving has continued to grow, Rizal said, a trend she attributes in part to the connections made possible by Facebook and other social media sites. One traditional weavers' group on Facebook has close to 400 members.
"The Native community has jumped on board with Facebook," Rizal said. "It's just crazy what's taking place now with weavers."
Though this is good news for the continued strength of the art form, the influx of so many new weavers also brings up interesting questions about how the art form is learned and practiced, questions rooted in deeper issues of what it means to those who do it.
For Hope and her mother, who are Ravens of the T'akDein Taan Clan, weaving isn't a past time, or even a craft. It's an activity that's deeply connected to their identity as Tlingit women and an integral part of their spiritual lives.
Hope will lead a presentation that touches on some of these topics during the conference. Her talk, "Tuwulatseen x'óow. Strength Giving Robes: Origins and Spiritual Meanings of our Ravenstail and Chilkat Weavings," is based on her experiences as a weaver and teacher, and on her historical research of written and oral records. It begins at 1:30 p.m. in the Egan Room on Saturday.
"In the past few years there's been a discussion about the 'rules and laws' of Chilkat and Ravenstail weaving, and I wanted to talk about that in professional place, with my peers, where we can continue the discussion," Hope said.
Hope will also talk about the differences between the two forms. Ravenstail is an older form than Chilkat, one that had actually passed out of practice when it was rediscovered by Canadian artist Cheryl Samuel in the 1980s. When Samuel began teaching the form in 1989, after years of research, Rizal was in her first class.
Hope said it's significant that Chilkat came down to students through the teachings of a living master weaver, Thlunaut, while Ravenstail did not; in her talk she will discuss how this difference manifests in the spiritual development of the two styles.
For Rizal, the spiritual aspects of traditional weaving became clear to her only when she started weaving Chilkat robes on the advice of one of her students, Ann Smith. Prior to that she was weaving smaller projects, such as aprons. The experience of trying a robe changed her life in many ways, she said.
"The power of weaving robes is so astounding spiritually. Culturally, yes, it's great we help our people show pride in themselves, but for the weaver, what it does for the weaver spiritually, emotionally, psychologically, is so profound that I want all the weavers, all the women who know how to weave, to do a robe because of that awesome spiritual growth that goes with that," Rizal said.
"And when we strengthen our women, in any culture anywhere around the world, when we strengthen our women, we strengthen our families, we strengthen our ties with our children, with our men, and when we have that strength in our families it branches out in our communities, our nations and world wide," she continued.
The three-day Sharing Our Knowledge conference was pioneered by Lily Hope's late father-in-law Andy Hope III, in 1993 (Lily Hope's husband, Ishmael, is Andy Hope's son) The conference brings together cultural experts and scholars from diverse backgrounds, who will speak on a wide variety of topics including: linguistics, archaeology, anthropology, education, art and music. (See Lance Twitchell's article in this week's Arts for an overview of the conference.)
The weaving demonstration will be going on concurrently with the conference presentations, and will include weavers of a wide range of ages and experience levels. They include Sharon Walker, Debra O'Gara, Nahaan, Irene Lampe, Ernestine Hanlon, Shaa Hanlon, Lorraine DeAsisq, Ricky Tagaban, Marsha Hotch, Melissa Rinehart, Shgen George, Michelle Martin, Fausto Paulo, Yarrow Vaara, Della Cheney, Jackie Kookesh and Catrina Mitchell.