Matt Volz Great Falls Tribune
June 24, 2014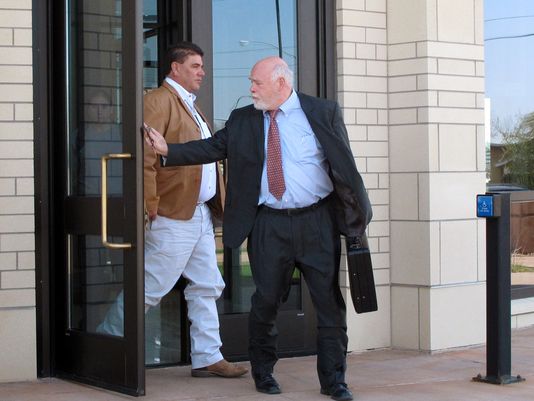 HELENA – Two Chippewa Cree tribal leaders were indicted Tuesday on charges they took cash and vehicles as kickbacks on lucrative business contracts awarded for work on the Rocky Boy's Indian Reservation in north-central Montana.
The charges against Chippewa Cree Business Committee member John "Chance" Houle and former chairman Bruce Sunchild are the latest in an ongoing federal investigation into corruption on Montana's Indian reservations. The investigation already has resulted in a round of convictions at Rocky Boy earlier this year, including a guilty plea by state Rep. Tony Belcourt in April to theft, bribery and tax-evasion charges.
Houle pleaded not guilty Tuesday before U.S. Magistrate Judge Keith Strong in Great Falls. Sunchild was arrested after he failed to appear in court Tuesday morning. He later pleaded not guilty.
Larry Denny, a spokesman for the tribe, said he was unaware of the charges against Houle and Sunchild, and he declined to comment.
Houle was originally indicted with Belcourt in 2013, but federal prosecutors dropped the charges against him without explanation. In three new indictments unsealed Tuesday, Houle faces 10 charges that include conspiracy to embezzle tribal funds, theft, bribery and obstruction of justice.
Houle received nearly $307,000 between 2009 and 2011 in exchange for contracts he awarded Hunter Burns Construction Co., which was partly owned by James Eastlick Jr., a former psychologist at the reservation's health clinic, prosecutors said in the indictments.
Eastlick, who is not named as a defendant, previously pleaded guilty to bribing Belcourt. Prosecutors said in the new indictments that Eastlick and Houle falsified documents to cover their tracks after learning of the federal investigation.
Houle also is accused of embezzling tens of thousands of dollars from a bank account for the Chippewa Cree Rodeo Association, which prosecutors said had deposits of $2 million between 2009 and 2012 from rodeo events and contributions from tribes and businesses.
Houle and another tribal member disguised the payments to look like legitimate rodeo expenses, prosecutors said. He received cash and to buy a vehicle for his daughter, the indictment said.
Houle also used an intermediary to transfer money from the rodeo account to Belcourt's wife to pay for a home in Box Elder, prosecutors said.
Houle is charged with fabricating documents to make the transfers appear legitimate once they learned of the federal investigation.
Sunchild was charged in a separate indictment with conspiracy to embezzle tribal money, theft and bribery.
Prosecutors said Sunchild and Belcourt authorized $300,000 in payments to a consulting company owned by Havre businessman Shad Huston. In return, Huston bought a sport utility vehicle for about $25,000 in 2011, and the vehicle's title was transferred to Sunchild's daughter, prosecutors said.
The next year, Sunchild authorized the payment of $27,200 to another Huston business and received $15,000 in return, prosecutors said.
Belcourt is not named as a defendant in the new indictments.