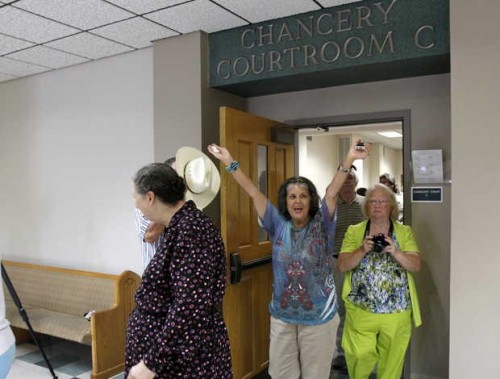 By KAREN NELSON, SunHerald.com
PASCAGOULA — A group of hundreds of Choctaw descendants, most of them living in the Vancleave area, made a great leap toward federal help Wednesday when the Chancery Court in Jackson County recognized them as an official Native American tribe.
"This is a huge hurdle to get past," said Dustin Thomas, attorney for a portion of the descendants. He said it should speed the process of getting recognition by the Department of Interior's Bureau of Indian Affairs.
Chancery Judge D. Neil Harris made the ruling after two factions within the group healed their differences and agreed on a constitution and bylaws for the Vancleave Live Oak Choctaw tribe.
The court directed Thomas to file an application and documents with the Interior Department for federal recognition of the tribe.
"… this agreement is in the best interest of the parties and all minor children affiliated," the court ruled.
The factions set up a provisional council to handle matters under the ruling.
Thomas said the biggest benefit to federal recognition may be health care.
"They really need this," Thomas said of the tribe. "They are so poor."
He said the group can trace its ancestry to four women and a French trader in the 1700s. The tribe numbers about 1,500, most living in South Mississippi.
The group also is associated with a school established in Vancleave in the early 1900s called the Indian Creole School.
"We're just so proud today that a court recognizes them," Thomas said. "These people are so happy."
Jackson County Supervisor Troy Ross said Wednesday the acknowledgement of this tribe likely would have no effect on the issue of casinos in Jackson County. Those who oppose casinos in the county long have expressed concerns one might be allowed on Indian land.
To do that would require going through the DOI, Ross said, and the governor would have "tremendous input."
"The governor knows we've voted not to have casinos here," Ross said Wednesday.