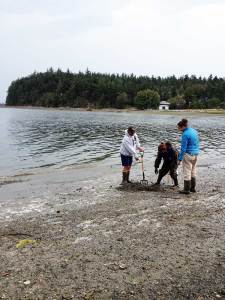 By: Northwest Indian Fisheries Commission
Researchers from Oregon State University (OSU) are studying shellfish contamination on the Swinomish reservation and nearby Fidalgo Bay.
Both the Swinomish Tribe and Samish Nation have partnered in the project with OSU's Superfund Research Program, focusing on clam contamination on tribal lands.
Butter clams were sampled from sites in Fidalgo Bay near an oil refinery, and from the relatively pristine Kukutali Preserve. Kukutali is co-managed by the Swinomish Tribe and the state of Washington.
"We predominantly are looking for chemicals that come from fossil fuels," said Blair Paulik, OSU Ph.D. candidate. "We were interested in seeing sites that were the extremes within the area. We expect if there's going to be an area that's more contaminated it will be near the refinery. We expect Kukutali to be less contaminated."
The samples are being analyzed in Professor Kim Anderson's lab at OSU's department of environmental and molecular toxicology.

Swinomish clam digger Benny James helped the OSU researchers locate butter clams on Kukutali. Butter clams specifically were sampled because they are an important part of the tribe's traditional diet.
"The information will help us understand how much of these types of chemicals are already in the area, and how much we will have to clean up in the event of an oil or coal dust spill," said Jamie Donatuto, Swinomish environmental health analyst.
The OSU team also tested a way to measure contamination using passive samplers. At each site where a clam was sampled, the team placed a small membrane in the sediment to soak up the chemicals. The results from the passive samplers will be compared to the data from the clams.
"Down the line, this could be used if you were worried, like the tribe is, about whether or not your seafood is contaminated," Paulik said. "You could just put out our samplers instead of removing clams from the food source."