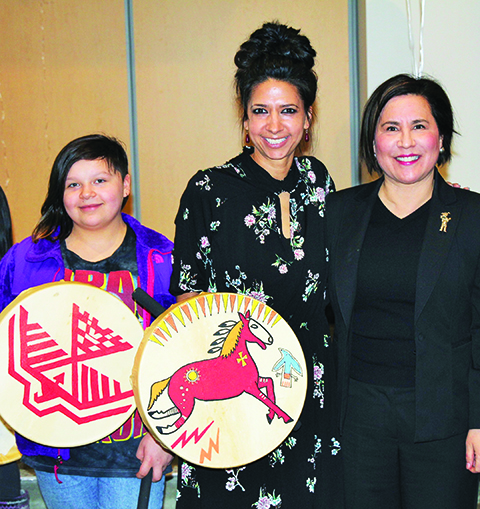 By Micheal Rios, Tulalip News
The stark reality when it comes to Native Americans and the education system isn't good, in fact it's pretty poor. The latest stats and trends only demonstrate Native students continue to have difficulty finding success (i.e. graduating high school) in comparison to their peers from different racial backgrounds.
National Congress of American Indians reports that on average, less than 50% of Native students graduate from high school each year in the seven states with the highest percentage of Native students, Washington State is included in that list. Moreover, recent numbers released from local public school districts, such as the Marysville School District and Seattle School District, show their Native student populations only graduating high school at a rate between 43-48%. For reference, the national average for high school student graduation, regardless of race, is 82%, according to recent publications from the National Center for Education Statistics.
Enter Clear Sky, the crown jewel of the Urban Native Education Alliance, a non-profit 501(c)(3), Native-led, grassroots, volunteer-based organization. Clear Sky was founded by urban Native students in Seattle as a youth centered program, serving thousands of Native youth since its inception in 2008.
The marvel of Clear Sky is that since its humble beginning ten years ago, Clear Sky continues to uphold a 100% graduation rate and academic advancement of Native learners who actively participate in its tutoring and mentorship offerings.  Read that again, a 100% high school graduation rate for these Native students.
Sustained success via a decade of dedication and mentorship to Native youth is worth celebrating, so on February 27th a 10-year celebration was held for all Clear Sky has achieved and continues to strive for. The location was none other than Robert Eagle Staff Middle School, Seattle's newest public school named for a beloved Native American educator of the 1980s and '90s.
Clear Sky's decade of dedication celebration featured a host of influential leaders, educators, activists, and former students who spoke about the immensely positive impact Clear Sky makes in the Native community.
"There are many aspects of our ten years I take pride in, given the unconventional model of being the flagship program of our Native-led, non-profit organization Urban Native Education Alliance," stated UNEA Chairwoman, Sarah Sense-Wilson (Oglala, Sioux). "Clear Sky has flourished, expanded outreach, and has become part of the fabric of our urban Seattle community. The number of alumni students returning back to volunteer and support Clear Sky is astonishing, and a testament to the impact Clear Sky had on their success. These young adults serve as healthy, positive role models for our youth.
"I'm proud of our ongoing 100% graduation and academic advancement of Clear Sky students throughout the many years of our program. The results are a reflection of our organizations core values and the fostering of leadership through academic achievement, civic service and stewardship."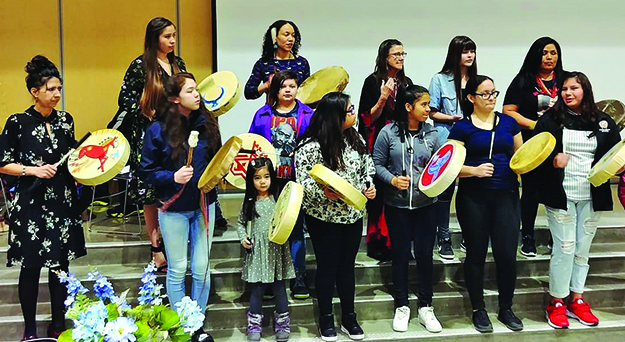 Shared values of culture and tradition was on full-display as well, through the sharing of drum circles and song. The UNEA women, led by Roxanne White, brought out the Women's Warrior Song to honor and remember missing and murdering Indigenous women. The A.I.M. song was performed by a group of proud Lakota men, while Roger Fernandes led the young men of the Clear Sky youth council in a Warrior Song.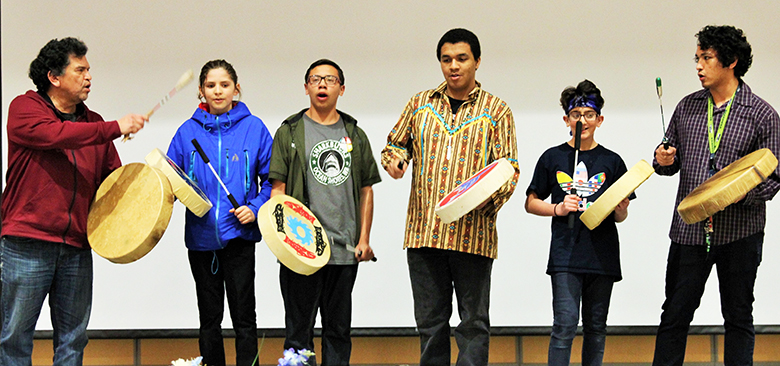 "Shout out to Clear Sky and UNEA. Seattle's Native community has an abundance of incredible leadership making this place one where Native kids can flourish," remarked Matt Remle, local Lakota activist and Native Liaison for the Marysville School District. "To the volunteers of Clear Sky who have showed up day after day, week after week, and year after year, for the sake of our kids…to the founders, past and present board members, staff, tutors, coaches, mentors, teachers, speakers, student leaders and families, thank you and wow!"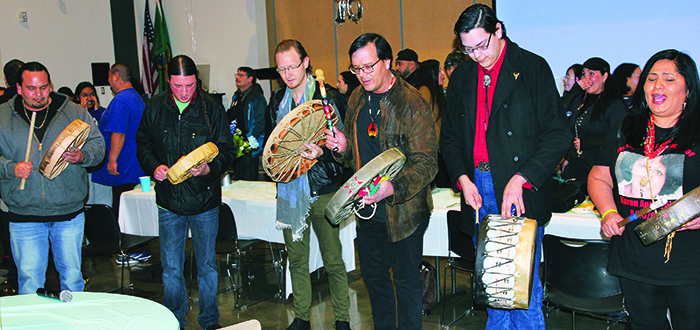 Among the student leaders and athletic coaches is Tulalip tribal member, Cullen Zackuse. Cullen is a Clear Sky Co-Coordinator and Native Warrior Athletics basketball coach. He serves as a youth mentor and provides leadership through positive role modeling. Cullen has strong roots and cultural ties with Tulalip and he brings those cultural/traditional values into every interaction with the urban Native youth.
"I took on a formal role with Clear Sky about six months ago so I could work with the youth after school on Tuesdays, Thursdays and Sunday, but mostly I coach the basketball team for Native Warrior Athletics," said Cullen of his leadership role within UNEA and Clear Sky. "Working with tribal kids and teaching them the fundamentals of basketball, coaching them at tournaments is making a difference and creates a positive environment for learning."
Two other notable guests in attendance for the celebration were Seattle Public School Board Member, Scott Pinkham (Nez Perce), and Seattle City Councilmember, Debora Juarez (Blackfeet). They shared in the festivities, spoke on the importance of Clear Sky, and gave special recognition by way of a City of Seattle official Proclamation declaring it "Seattle Clear Sky Day".
"The content of the Proclamation addresses several decade long issues UNEA and Clear Sky youth have been addressing through Seattle Public Schools public testimony, rallies, community meetings, documentaries, and countless news media interviews and letters, and petitions," explained UNEA Chairwoman, Sarah Sense-Wilson. "We plan to share the City of Seattle Proclamation with other youth groups and at various venues to illustrate that the City of Seattle supports our initiatives and our vision as a legitimate voice for Indian Education."
For more information on the Urban Native Education Alliance and Clear Sky, or to contact about mentorship and tutoring opportunities for the youth, please reach out to Sarah Sense-Wilson by phone at (206) 941-0338 or via email markseattle3@aol.com