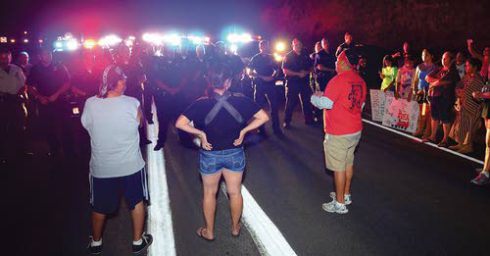 Source: Earth First! Newswire
After a three-hour blockade involving upwards of 150-200 people from the Nez Perce Nation, Idle No More, and Wild Idaho Rising Tide, activists once again dedicated themselves last night to stopping megaload shipments through Idaho.
Omega Morgan, the company responsible for the transport of the 200-ton megaload, has been warned by the Forest Service that the shipment is unauthorized, and the Nez Perce tribe is seeking an injunction. However, Omega Morgan is trying to sneak the megaload through against the law, so direct action must be taken.
The Nez Perce put out a call yesterday for activists to join them in renewed efforts to stop the tar sands equipment from moving through Highway 12. More than 50 protestors came out. They were met by a force of 40-50 police officers in a fleet of cars.
Police gave protesters 15 minutes to speak out as they blocked the roadway, before being forced to move to the shoulder. Some young activists decided to maintain the presence of the blockade by heaving boulders and large rocks into the streets, which held traffic up further.
Several Nez Perce tribe-members were arrested, adding to the 19 arrested on Monday night (including the entire executive committee).