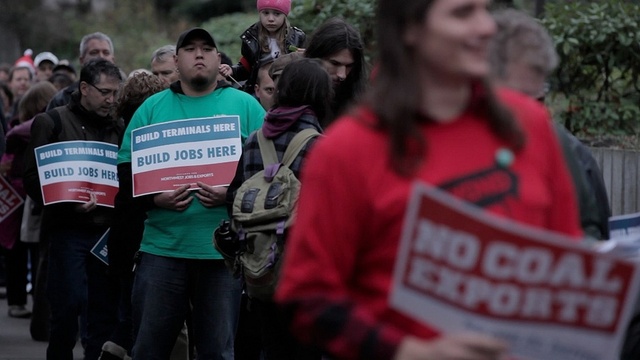 By Courtney Flatt, Northwest Public Radio
More people in the Northwest support coal export terminals than oppose them. Those are the results of a new survey. But people who took the survey didn't feel very strongly about why they supported coal exports.
For the third year in a row, a public opinion poll for EarthFix asked Northwest residents how they felt about transporting coal through the region. That coal would then be exported to Asia.
DHM Research surveyed 1,200 residents in Washington, Oregon and Idaho from June 25-30. The poll found 47 percent of Northwest residents say they support coal exports. That's up a little bit from last year's survey, which showed 41 percent or respondents supporting coal exports. 34 percent opposed Northwest coal exports, and 19 percent didn't know.
John Horvick, DHM Research director, said many people who responded didn't have very strong opinions about why they support coal terminals. Those reasons include supporting local economies and more property tax revenue.
"These arguments aren't quite as persuasive as they were in the past. Maybe people are becoming a little bit more cynical, they've heard them before, or they're asking some questions, or the landscape has changed on the issue," Horvick said.
The survey also found many people aren't paying close attention to the issue, Horvick said, another possible reason they don't feel very strongly about why they support coal export terminals.
One survey respondent who felt strongly about opposing coal export terminals was Robert Schuman. The Pullayup, Washington, resident is a 32 year old truck driver. He said he's not necessarily opposed to coal, but he doesn't like it being shipped to Asia.
"I don't like the coal going over there mainly because they don't have any environmental controls. It's getting pumped out in the air over there without even basic scrubbers or anything like that. It's just pumping ash in the air," Schuman said.
Environmental groups look at less intense support as good news to their cause. They say as people learn more about coal exports, they start to support them less.
Kerry McHugh, Washington Environmental Council spokeswoman, said exporting coal would harm communities along the railroads and where terminals are built.
"It just really starts to add up that it's not worth it," McHugh said.
Over the past three years surveys have shown public support for exporting coal dipped as state agencies hosted large meetings and reviews about the terminals.
Fewer meetings took place this year. Support has risen. Opposition has stayed about the same.
Kathryn Stenger is with the Alliance for Northwest Jobs and Exports. The industry-backed group supports coal terminals.
She says one of the main reasons more people are supporting coal exports:
"It's trade-related jobs in Washington State that are at stake here," Stenger.
The survey had a margin of error of 2.8 percent.
There are now three proposed export terminals in the Northwest.