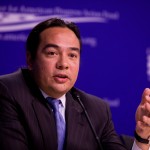 Rob Capriccioso, Indian Country Today Media Network
Keith Harper, one of the principal lawyers who negotiated the $3.4 billion Cobell settlement with the Obama administration, has been listed by the Obama-Biden campaign as one of the top voluntary campaign finance bundlers for the president's successful re-election in 2012.
Harper is part of a list of what the Center for Responsive Politics calls "758 elites" who directed "at least copy80,100,000 for Obama's re-election efforts—money that has gone into the coffers of his campaign as well as the Democratic National Committee," according to opensecrets.org.
Harper is listed as a bundler of "$500,000 or more." The donations he collected are largely believed to have come from wealthy tribal donors, as he oversaw multiple Indian donor events during the 2012 election season, while also working for Indian interests in the Cobell settlement with the federal government, which was first announced in December 2009 and became final after appeals from four Indians drew to a close late last year.
Harper's bundling effort matched the contributions of such notables as actor Will Smith, actress Jada Pinkett-Smith, actress Eva Longoria, filmmaker Tyler Perry, singer Gwen Stefani, and producer Harvey Weinstein.
The Center for Responsive Politics also indicates that Harper personally contributed $2,500.
Obama's re-election campaign voluntarily released its latest batch of bundler data in early March. The campaign for failed Republican presidential candidate Mitt Romney has not disclosed its complete list of bundlers, and has not said it will.
Harper is a partner with Kilpatrick Townsend & Stockton. Beyond the Cobell case, the firm has also represented several tribes in separate multi-million dollar trust settlements with the Obama administration.
The Cherokee lawyer has been a principal in the ongoing Cobell litigation since he worked for the Native American Rights Fund (NARF) in the 1990s. Harper left NARF in 2006 to work for Kilpatrick Stockton.
As the Cobell settlement payment process to individual Indians continues to take place over this year, lawyers with NARF are currently battling Kilpatrick Stockton and other lawyers involved in the case for a share of the approximately copy00 million designated for lawyers involved with the litigation. A hearing on the lawyers' fees is scheduled to take place March 18 in Judge Thomas Hogan's U.S. district courtroom in Washington, D.C.
March 1 was the deadline for Indian class members to have submitted their applications to receive the second payments of the Cobell settlement, the trust administration class payments. Most Indian beneficiaries in the case will receive less than $2,000.
Read more at
http://indiancountrytodaymedianetwork.com/2013/03/04/keith-harper-cobell-lawyer-bundled-least-500000-obamas-re-election-147979