A wave of support offered in the wake of the MPHS shooting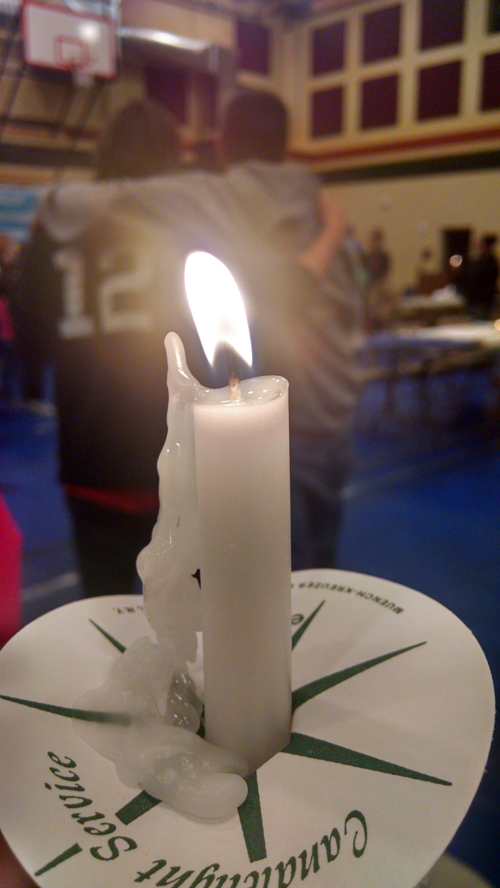 By Niki Cleary, Tulalip News 
Immediately following the MPHS shooting, crisis management teams from around the nation and local, mobilized. Cheri Lovre, Executive Director of the Crisis Management Institute was one of them. She specializes in helping communities deal with the aftermath of school shootings and similar tragedies. She spoke at a November 5th, trauma recovery working session between the Tulalip Tribes and the Marysville School District.
November 5th was the first day students at MPHS got back to a typical class schedule following the October 24th tragedy in which a Tulalip boy, Jaylen Fryberg, opened fire on his close friends in the cafeteria, killing 4 of them and himself. Lovre acknowledged that while it was the first regular school day, it will be a long time before anyone affected by the tragedy feels "normal."
"I followed Jaylen's schedule," she said, explaining that she attended all of his scheduled classes. "We had kids in classes so they could see where the empty desks were, the rooms where Jaylen's desk would be empty. That meant there were times during the day where I was a in a class with four empty desks."
Acknowledging the loss and the range of emotions is important for teachers, students and even the community, Lovre explained. Right now, many people, adults and children, are still processing the event.
"The first day back we acknowledge it. We told the kids that we don't have to move today. There was only one class that asked for a new seating chart. I've seen more chaos in schools where a child simply died in a car accident than we had in this school," she said.
"They [the kids] need to see everything unchanged," she described artifacts of the shooter as well as the victims, photos, school projects that might hang on the walls, even name tags that might be posted, "Taking it down is part of a process."
For the first day back, the District had 30 grief counselors and therapy dogs at MPHS, and two grief counselors in each other district school. Counselors in the schools are just a piece of the total recovery effort, Lovre said. Much of the healing, or lack of healing will happen at home.
"Kids can only recover as much as the adults in their lives," she pointed out. "We can't expect our kids to behave in a way that is not modeled. I'll say it again. Kids can only get as well as the adults around them."
Providing overall community outreach and opportunities for the community to grieve and express emotions is one way to move forward after tragedy. The district, Lovre said, may look into greater outreach in order to help kids heal as much as possible.
"In other places one of the things we created were one-stop-shops where parents who needed counseling [also had access to other services]," she recalled. "IF a parent had an issue with food stamps, they could talk with someone at the school and deal with that issue at the same time."
It's important to provide wraparound services because as stress adds up, people are less able to deal with it. She also illustrated the types of behavior, including suicides, that current trauma might trigger.  Trauma can also cause learning disabilities, which for a senior in their final year of high school, can derail their graduation goals.
"About 25% of your students have passing thoughts or have attempted suicide," Lovre said. "Anytime the world is de-stabilized, it bumps those kids a little closer. You end up with kids sleeping in class because they can't sleep at night, then they don't have enough credits to graduate. The biochemistry of trauma leaves us on-edge, irritable and easily provoked."
Every district deals with these issues differently. Lovre explained that the fact that Marysville School District is having the conversations so early, is a positive sign.
When asked about the mixed emotional reactions, Lovre said there is no right or wrong way to deal with the shooting. Some people will react with anger, some with grief, some will have no reaction at all, or will block out the violent act and focus on what came before. Still others will pass from one emotional reaction to another depending on the day, or even the moment. All are common reactions and none are abnormal.
"We often, particularly with a suicide or murder, get stuck on that moment and forget how that person lived. Part of my message is that we need to acknowledge that we lost someone in the fabric of our community. We need to acknowledge that we loved him. Some of you are conflicted about how you feel about him, you loved him but you cannot fathom the event that he did. It's important that we say out loud that we have both feelings."
Lovre continued, "There's a difference between moving on and moving forward. I think it's a wonderful thing that no one has vandalized the memorials to Jaylen. We are still in the honeymoon stage [of the crisis response]. But we'll be tipping over that hill soon. The adults in your community will be moving to less tolerant places.
"We start getting into disillusionment, 'I thought this was a good community, but I guess it's not.' Then we get into real anger, blame, and mistrust. Eventually it starts to come back up but it's not [a straight line], there are dips. But, eventually, the days get better as a community, a family and for each person."
Keep reading the See-Yaht-Sub and Tulalip News for updates on crisis relief efforts, where to receive counseling and how to help the Tulalip and Marysville communities move forward from tragedy.