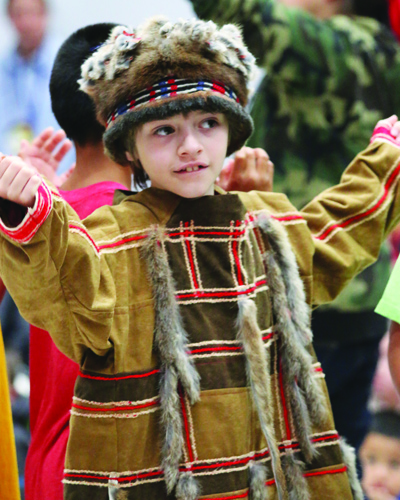 By Micheal Rios, Tulalip News
Quil Ceda Tulalip Elementary gym was packed wall to wall with students and community members who assembled to celebrate Tulalip Heritage Day. Students were encouraged to wear traditional regalia according to their tribal cultures. Tulalip pride was on full display as many students wore traditional Coast Salish garb featuring cedar headbands, abalone shells and wool. Other students wore traditional pow wow regalia according to their style of dance. Traditional Tulalip song and dance was performed for audience members, including Marysville School District Superintendent Dr. Becky Berg who was in attendance as a show of support for Native students and respect of Tulalip culture.
Students were encouraged to bring their drums. As Co-principal Dr. Craig said, "Some students have never drummed before and learn by attending and drumming with the Tulalip members who attend the morning assemblies. This gives Native students an opportunity to learn their culture in a safe positive environment."
Children adorned in their tribal regalia danced in the middle of the gym while the Tulalip drummers and singers filled the air with their traditional, enchanting sound.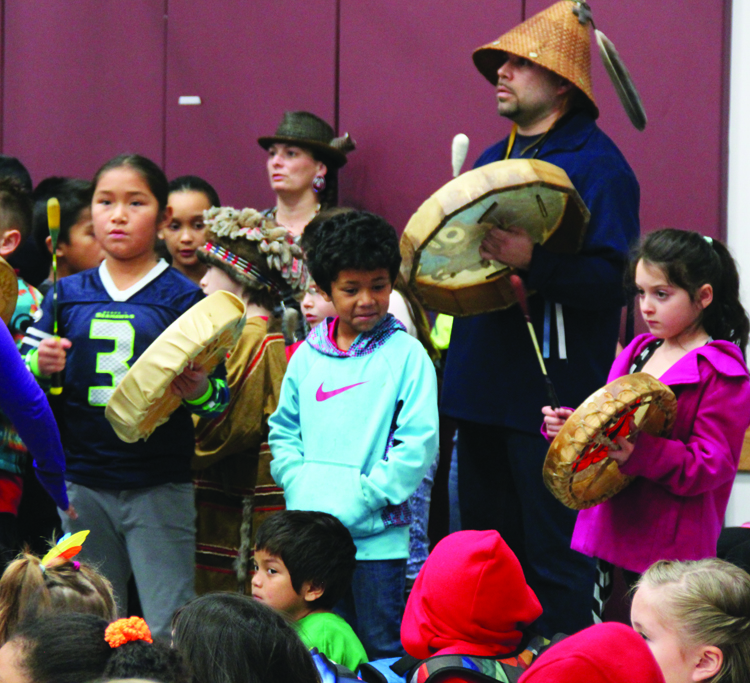 The proud heritage of Tulalip was best demonstrated when the Tulalip Canoe Family sang their "Happy Song." All the elementary students are familiar with the "Happy Song" as they sing it with school faculty at every morning assembly. When the Tulalip Canoe Family performed, their hand movements were gleefully mirrored by the students as they sang along. During the "Happy Song" performance, all the students were transformed into Tulalip performers.
Matt Remle, tribal liaison for Marysville School District and Lakota Native from the Standing Rock Reservation, shared a traditional Lakota song about uplifting one another. During the event he took to Facebook to remark on the importance of the even for Native students posting, "It was beautiful to see the tremendous community support, as well as, see so many young ones singing, drumming, and dancing. This is real education, indigenous education, and empowerment."
The morning's assembly marks an important change in history for Tulalip students who previously were not allowed to celebrate or practice their traditional customs, which were prohibited during the boarding school era.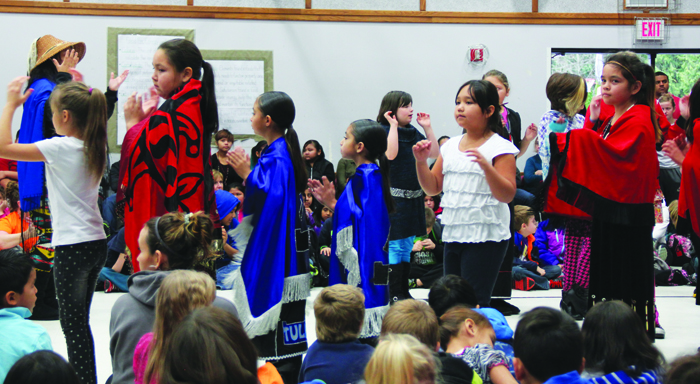 Theresa Sheldon, Tulalip Tribes board member, was also in attendance and spoke to the students about the origins of Tulalip Day. As she explained, "In the 1980s, our Board of Directors actually changed the holiday and made the Friday after Thanksgiving Tulalip Day. Tulalip does not actually recognize Columbus Day, we recognize Tulalip Day."
After the assembly concluded Principal DeWitte commented on the impact of displaying and teaching Tulalip culture to the students. "Because we do it every day it becomes a part of who we are."