By Levi Rickert, Native News Network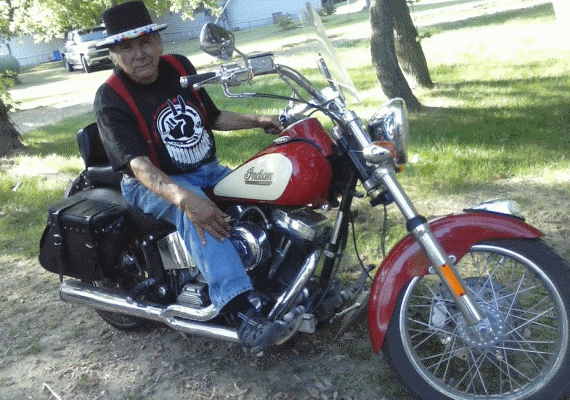 LEECH LAKE BAND OF OJIBWE TERRITORIES – Dennis Banks, 77, a cofounder of the American Indian Movement, has announced a 18,000 mile motorcycle run across America with hundreds of American Indians participating to "declare war on diabetes."
His announcement was distributed through a news release Sunday from his foundation, the Nowa Cuming Institute. The news release states:
"The Nowa Cuming Institute has issued a Declaration of War on Diabetes."
"Diabetes is at an epidemic state in Indian country and must be halted,"
said Banks, who was diagnosed with diabetes four years ago and has reversed his diabetes through a strong diet.
The motorcycle run will have four staring locations in Seattle, San Francisco, Los Angeles and San Diego on August 11 with the final destination of the nation's capital, Washington, DC on September 10, 2014.
Throughout the various routes across America, motorcyclists will stop at various American Indian reservations and communities as they journey to Washington.
Once in Washington, the group will visit members of Congress and present them with a national diabetes policy, according to Banks.
This will be the second endeavor by Banks to draw attention to the ill-effects of diabetes in Indian country. In 2011, he led the "Longest Walk 3 – Reversing Diabetes" that took the long walkers to 72 American Indian reservations and communities before they arrived in Washington.
"If we don't address this medical issue now, there will no one in the seventh generation who will be healthy and if we don't take action now to stop diabetes, they will condemn this generation,"
said Banks.
The Nowa Institute released the announcement so that tribes and others who want to be part of the pre-planning of this historic motorcycle run can do so now.
We are asking people of interest to aid in this "War on Diabetes." said Banks.
Those interested in assisting and supplying diabetes materials may email Goody Cloud at ndn_queen_bee@yahoo.com.