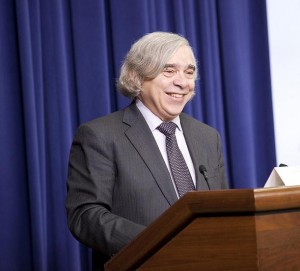 Source: Indian Country Today Media Network
Nine tribes will receive a total of more than $7 million from the U.S. Department of Energy (DOE) for clean-energy projects, the agency announced on November 14.
The Coeur d'Alene Tribe in Idaho, the Gwichyaa Zhee Gwich'in Tribal Government in Fort Yukon, Alaska, the Forest County Potawatomi Community in Milwaukee, Menominee Tribal Enterprises in Wisconsin, the Seneca Nation of Indians in Irving, New York, the Southern Ute Indian Tribe Growth Fund in Ignacio, Colorado, the Tonto Apache Tribe of Payson, Arizona, the White Earth Reservation Tribal Council in Minnesota and the Winnebago Tribe of Nebraska will use their respective funds to develop a variety of alternative energy sources involving wind, biomass and solar power.
The DOE highlighted the awards during the 2013 White House Tribal Nations Conference as a way to help American Indian and Alaska Native tribes use clean energy to save money, increase energy security and promote economic development.
RELATED: Native Leaders Air Concerns at White House Tribal Nations Conference
Today, we are very pleased to announce that nine tribes have been selected to receive over $7 million to further deploy clean energy projects," Energy Secretary Ernest Moniz said in his remarks before the conference. "A couple of examples in those awards, wind power for tribal government buildings at Seneca Nation in New York, energy efficiency upgrades to reduce energy use by 40 percent in Alaska. There are nine tribes that will have these efficiencies. And that addresses this question of mitigation, reducing carbon pollution."
"American Indian and Alaska Native tribes host a wide range of untapped energy resources that can help build a sustainable energy future for their local communities," said Energy Secretary Ernest Moniz in a statement announcing the awards. "Responsible development of these clean energy resources will help cut energy waste and fight the harmful effects of carbon pollution—strengthening energy security of tribal nations throughout the country."
In remarks at the Tribal Nations Conference, Moniz said the government planned to work more closely with American Indians on developing energy sources.
"We are looking forward to establishing and advancing a subgroup of the White House Council on Native American Affairs, to really focus on energy development, energy deployment in Indian country," he said. "I think, working together, with us and agriculture, EPA and other cabinet colleagues, we really want to harness the energy potential in Indian country—conventional energy, renewable energy—to expedite clean energy deployment and electrification. That is something that we will get together on and try to advance promptly."
While Indian country officially takes up just two percent of the land known as the United States, that territory holds a good five percent of all U.S. renewable energy resources, the DOE noted.
The grants are part of an ongoing push to invest in tribal clean energy projects that began in 2002. The DOE's Tribal Energy Program has put about $42 million into 175 such projects, providing financial and technical assistance as well along with its Office of Indian Energy Policy and Programs. Other grants were announced earlier this year to other tribes.
RELATED: Energy Department To Pump $7 Million Into Tribal Clean Energy Projects
The initiative also includes technical assistance.
RELATED: Ten Tribes Receive Department of Energy Clean-Energy Technical Assistance
Moniz said the DOE intends to continue and expand on these efforts.
"From community solar projects in New Mexico and Colorado, to the commercial scale wind projects in Maine, small biomass projects in Wisconsin, DOE is working with 20 tribes and Alaskan Native villages to empower leaders with tools and resources needed to lead energy development that can foster self-sufficiency, sustainability, and economic growth," he told the tribal leaders at the conference. "At the Department of Energy I have certainly made it a priority to raise our game with state, local governments, tribes. We believe, in the end, a national policy needs to build from tribal, state, local, and regional policies and activity."
Read more at
http://indiancountrytodaymedianetwork.com/2013/11/14/nine-tribes-receive-7-million-department-energy-wind-biomass-solar-projects-152259