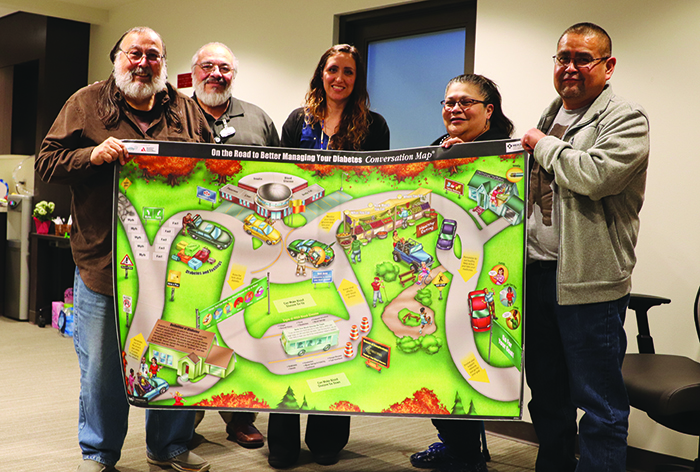 By Kalvin Valdillez, Tulalip News 
On the evening of March 7, the Tulalip Diabetes Care and Prevention program hosted their first Finding Your Way with Diabetes gathering of the year in the newly constructed conference room at the Karen I. Fryberg Health Clinic. After great success last summer, the interactive course was brought back to help local diabetics get a better understanding of how to manage their diabetes.
Finding Your Way with Diabetes is led by Diabetes Educators, Miguel Arteaga (RN) and Natasha LeVee (PharmD) who guide the participants through an hour and a half long class that includes games, snacks and plenty of laughter. Participants are encouraged to share their stories with their fellow diabetics to give insight into the disease and how it can affect others in both similar and different ways. 
The latest report from the Centers for Disease Control and Prevention (CDC) revealed that Native Americans are still at great risk and twice as likely to be diagnosed with diabetes, but because of programs like Diabetes Care and Prevention, Indigenous Peoples living with diabetes are learning how to responsibly manage their blood glucose levels, eat healthy nutritious foods, and participate in physical activity as well as gain more general knowledge about diabetes. 
"The inspiration behind the class is we we're trying to figure out a way to provide something for [diabetics] that was kind of like the Wisdom Warriors," says Miguel. "The Wisdom Warriors is a self-help group where people learn skills and get together like a family, have a meal and share with one another. We wanted somethingthat lets us facilitate discussion between all the people, where they're all learning from one another and they see that they're not by themselves. They end up teaching each other, and we just provide some friendly expertise along the way."
At the start of each class, Miguel and Natasha ask the participants if there are any topics they would like to discuss, compiling a list of subjects to touch upon as the class progresses. The students then use a road map, which looks like a giant board game, for the remainder of the class. The road map provides several games like 'Fact or Myth' as well as a variety of discussion topics allowing the participants to engage in healthy conversation regarding nutrition, insulin, medication, types of diabetes as well as their daily successes and struggles as they work their way through the map.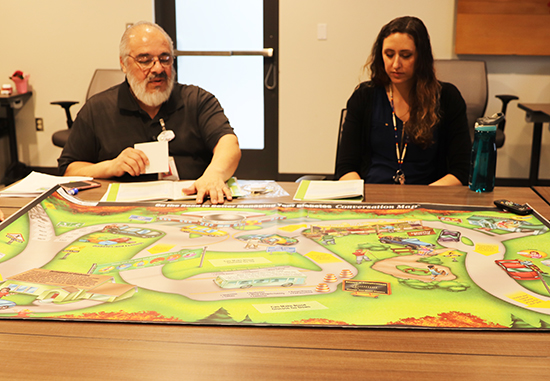 "The reason why this is in a real colorful format is to give people some talking points," Miguel explains. "We're talking about living your life better and we treat it like a road map. That's why it has the road and multiple stops where we talk about certain topics, later on when we get into nutrition, we'll talk about places where you can eat, getting fast food and where to find more nutritious foods. We talk about things that happen in real life and the decision process of how to keep ourselves safe. We're trying to get good information out to people so they're more empowered and they can make better decisions about how they're going to live their lives."
The Finding Your Way with Diabetes class provides an opportunity for local diabetics and their families to find a sense of community. The first class was an intimate gathering where three individuals became acquainted and shared their personal journey. Community member Jim Dunham and Tulalip tribal member Marvin Jones, who both have type 2 diabetes, welcomed newcomer Daniel Charlie to the group. Daniel shared his history, explaining how he was diagnosed with type 1 diabetes a few short years ago. He nearly lost his life due to a rough bout of pancreatitis that put him into a hospital for ten months, in which he was in a coma for over four of those months. Jim and Marvin were both flabbergasted as he described his story. They commended him for fighting for his life and also encouraged him to keep pushing forward, advising him to take it one day at time while also extending their support as he continues living with diabetes. By the end of the class Daniel was embraced with hugs and personal discussion from both the participants and the instructors.
"That's what it's all about," Miguel states. "To provide something that's more like a self-help group than just telling them information and giving them papers, saying here read this. We want to let people know that they're welcome, that they have something to share. This is not something that anybody needs to feel bad about, ashamed or guilty about. It's something that happens and there are certain ways we need to act or skills we need to develop to take care of it. I hope people will read this article and want to be a part of this or if they know someone with diabetes and want to learn more about it, to get their family member here so we can help them have a better life."
Finding Your Way with Diabetes is hosted at the Karen I. Fryberg Health Clinic every Thursday in March from 4:30 p.m. until 6:00 p.m. The Diabetes Care and Prevention program has an eventful year planned for the community, including several garden days at the clinic and cooking classes with Britt Reed, as well as a new class, Seven Skills to Live with Diabetes, where they will go into further detail about diabetes management. 
If you or a loved one is living with diabetes, Miguel and Natasha encourage you to drop by the Diabetes Care and Prevention program at the clinic so they can answer any questions, provide you with resources and set you up with a personalized plan to help manage your diabetes. For further information, please contact the Diabetes program at (360) 716-5642.