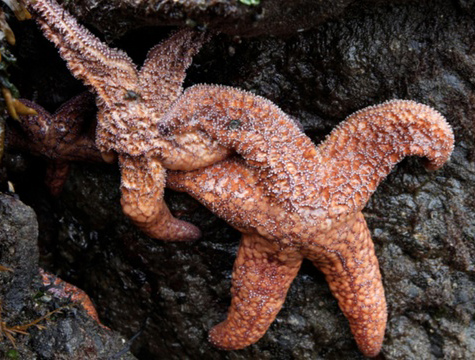 By Katie Campbell, KCTS9
WASHINGTON, D.C. — Researchers have been scrambling for more than a year to make sense of a strange disease that's causing West Coast starfish to die by the millions.
Now it looks like help could be coming from Congress.
U.S. Rep. Denny Heck from Olympia introduced a bill Thursday that would dedicate federal funds for researching the epidemic, which has now spread along North America's Pacific coast from Alaska to Mexico and in some places on the East Coast as well.
The disease has hit more than 20 species of West Coast starfish. Scientists are calling it the largest marine disease outbreak ever recorded.
Drew Harvell, a marine epidemiologist at Cornell University, has been studying the outbreaks in Puget Sound and is leading nationwide efforts to understand the epidemic. She says this legislation is critical because tracking marine disease outbreaks is so challenging.
"Disease outbreaks — they're like lightning strikes. They occur unpredictably and rapidly," Harvell says. "To identify their causative microorganisms or stop them from spreading requires significant scientific investigations on really short notice."
The proposed legislation would establish a plan for declaring and responding to the sea star disease outbreaks as well as future marine disease emergencies.
Harvell says increased funding could speed up the search for what's causing the disease and for ways to prevent starfish from permanently vanishing from North American coastlines.
"It will allow scientists like me to leverage rapid funding and come up with proactive measures to protect our valuable marine fisheries and biodiversity," Harvell says.