by The Associated Press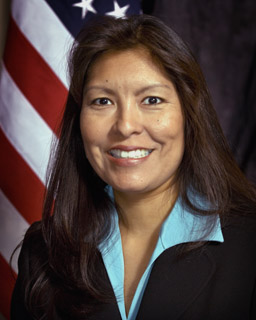 PHOENIX (AP) – A former U.S. Attorney from Arizona will be the first Native American woman to serve on the federal bench.
Hopi citizen Diane Humetewa easily won confirmation on May 14 in the U.S. Senate in a 96-0 vote. The four senators who didn't vote were Michael Bennet (D-Colo.), John Boozman (R-Ark.), Christopher Coons (D-Del.) and Jack Reed (D-R.I.)
She will fill one of six vacancies in the federal District Court of Arizona.
Humetewa currently serves as special counsel at Arizona State University, where she is also a professor.
She served as U.S. Attorney for Arizona between 2007 and 2009.
She also was an appellate court judge for the Hopi Tribe.
The National Congress of American Indians praised the confirmation, saying Humetewa has dedicated her time to serving the interests of Native peoples.
"The National Congress of American Indians congratulates Diane J. Humetewa of the Hopi Indian Tribe on her confirmation as federal judge in the U.S. District Court of Arizona. As the newest member of the federal bench, she is the first Native American woman ever appointed to serve in that position," a NCAI press release states. "The Honorable Humetewa is impeccably qualified for her new role. She has practiced law in federal courts for over a decade – as Special Assistant U.S. Attorney, as Assistant U.S. Attorney, and as the U.S. Attorney for Arizona – and is experienced in a wide array of complex proceedings, hearings, and cases. Further, Judge Humetewa has dedicated time to serving the interests of Native peoples. She has been the Appellate Court judge for the Hopi Tribe, counsel to the U.S. Senate Committee on Indian Affairs, and special advisor to the President on American Indian Affairs at Arizona State University. NCAI greatly appreciates the efforts of the President and Senate in achieving this historic confirmation. There are many qualified, talented people like Diane Humetewa in Indian Country who are able and willing to serve. We eagerly anticipate many more nominations of Native people to the federal bench and other offices."
The overburdened District Court of Arizona remains one of the busiest in the country, having declared a judicial emergency in 2011