Shoni and Jude made a stop in Tulalip for some ball time with their fans.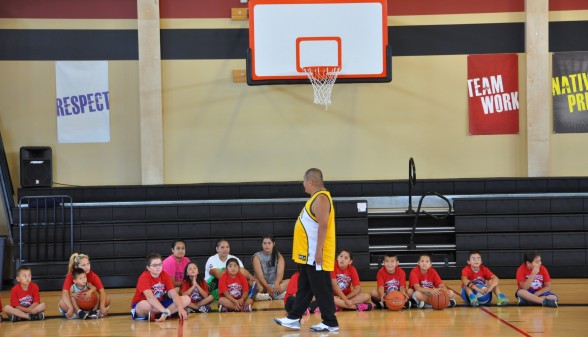 By Monica Brown, Tulalip News writer
TULALIP, Wa- Sisters, Shoni and Jude Shimmel, who are known for bringing "rez ball" to college basketball courts, are touring Indian country this summer before they head back to the University of Louisville for fall quarter.  During their tour the duo planned a visit to Tulalip Reservation's, Don Hatch Gym. Shoni and Jude came to meet their fans and motivate the Tulalip kids into dedicating more passion when playing basketball, or any sport in general.
Kids and fans alike packed the gym on Saturday August 17th to meet the famous Shimmel sisters and practice with them. Fans donned their Native pride shirts, with backs that read, "Shimmel Showtime". A reference that recalls the memory of the "Shimmel Show", a nationally televised game from this past year in which Louisville Cardinals beat the Tennessee Lady Vols 86 to 78, and the Schimmel sisters scored a combined 39 points throughout the game which was dubbed "Shimmel Show" by ESPN.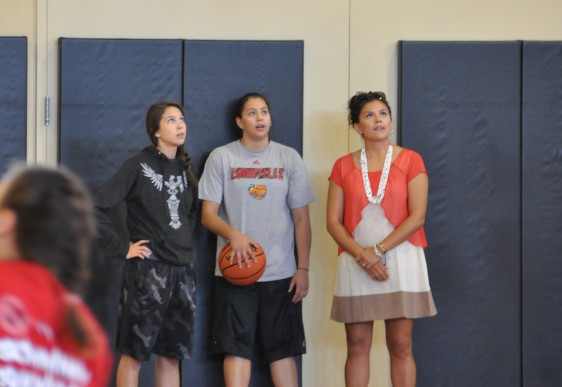 The Shimmel sisters have been named the "Umatilla Thrilla" because they come from the Umatilla Reservation in Pendleton, Oregon and demonstrate the "rez ball" technique in their play. Rez ball, not something you would normally see in use on professional courts, is a playing style where the players are more aggressive, they move at a fast, consistent tempo to complete quick scoring and maintain an assertive defense.