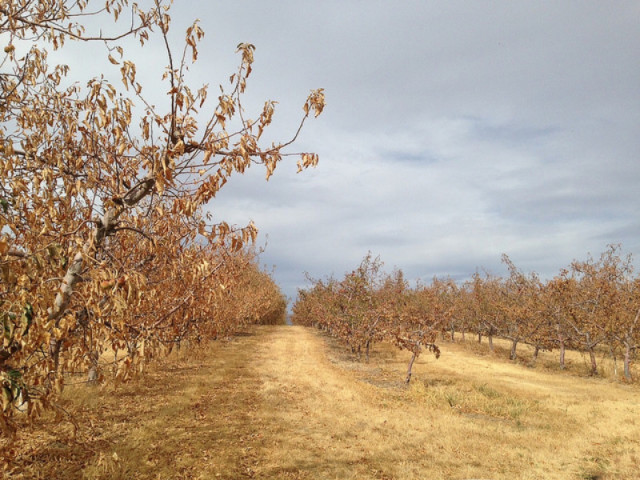 by Cassandra Profita, OPB/EarthFix
Don't be fooled by the recent rain and cooler temperatures. Most of Oregon and Washington are still experiencing severe or extreme drought.
With many of the region's reservoirs and streams still far below normal and a warm winter on tap, experts are predicting this year's drought will likely continue into next year.
On a conference call Thursday, Washington Department of Ecology Director Maia Bellon said her agency is preparing for the worst: another year of drought that will take hold earlier and take an even bigger toll on the state.
"This historic drought is not over, and we're already planning for next year," Bellon said. "We face winter with a huge water deficit. Rains are desperately needed to recharge these reservoirs and even that won't be enough to get us through next summer. We need winter snowpack – what we call our frozen reservoir – and there's growing concern we may not get it."
Projections for this year's winter temperature and precipitation relative to normal conditions from 1981-2010.
Courtesy of Washington Department of Ecology
Washington State Climatologist Nick Bond said there's a 10- to 15-percent chance this winter will be just as warm and devoid of snow as last winter.
"There's been recently some rain and cooler temperatures, but are we out of the woods?" he said. "The answer, I'm afraid, is no. El Nino is rearing its ugly head in the tropical Pacific. It's of the magnitude and type that is strongly associated with warmer than normal winters around here, and warmer ocean temperatures off our coat, the blob, will be a contributing factor. All in all, the odds are strongly tilted towards another toasty winter."
Oregon's outlook is much the same, according to Kathie Dello, associate director of the Oregon Climate Research Institute.
"Nothing is pointing to us having a great winter," she said. "The warmer-than-normal temperature prediction is the most disconcerting."
With so many low reservoirs and rivers, Dello said, even slightly below-average precipitation this winter would leave the region with a water deficit going into next year.