Story by the Fairfield Sun Times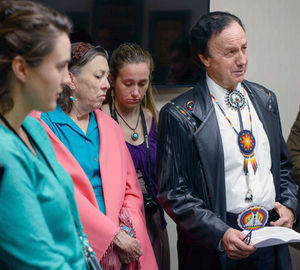 Washington, D.C. – Today the federal government returned the property it had seized from a Native American man exactly nine years ago: his eagle feathers. (see video)
Although just moments ago Mr. Robert Soto, a Lipan Apache religious leader and renowned feather dancer, received the tribe's sacred feathers, the federal government has not repealed an arbitrary federal law forbidding Mr. Soto and others like him from possessing eagle feathers, and it is still threatening Mr. Soto with punishment for practicing his faith. The Becket Fund continues to defend Mr. Soto in court, and today it will be filing a motion to obtain protection from this unjust law.
"The government has about a million better things to do with taxpayer money than send undercover agents to raid Native American powwows and confiscate their eagle feathers, " said Luke Goodrich, Deputy General Counsel for the Becket Fund for Religious Liberty.
In 2006, the government sent undercover agents to a Native American religious ceremony called a powwow to confiscate eagle feathers, which play a central role in the Native American faith. The agent was enforcing federal laws that prohibit possession of eagle feathers without a permit. The laws grant permits to museums, scientists, zoos, farmers, and "other interests, " such as large power companies. They also grant permits to Native Americans who are members of "federally recognized" tribes. But they don't grant permits to Mr. Soto's tribe–the Lipan Apache Tribe of Texas. Although the Lipan Apache are recognized by historians, sociologists, and the State of Texas, they are not recognized by the federal government.
Mr. Soto challenged this arbitrary treatment under the Religious Freedom Restoration Act–the same law that featured in last year's Supreme Court decision involving Hobby Lobby. In August 2014, the United States Court of Appeals for the Fifth Circuit ruled in his favor.
Although the Government has returned Mr. Soto's feathers, it persists in threatening Mr. Soto and his congregation with civil and criminal penalties if they use eagle feathers in their religious services.
"The government allows hundreds of eagles, if not thousands, to be killed every year for non-religious reasons. Yet it won't allow these Native Americans to possess even a single feather. " said Goodrich. "It's time to let Native Americans practice their faith; we're not living in the 1800s anymore. "
The Becket Fund for Religious Liberty is co-counsel in the case, together with the international law firm of Baker Botts LLP, and the Civil Rights Legal Defense and Educational Fund.