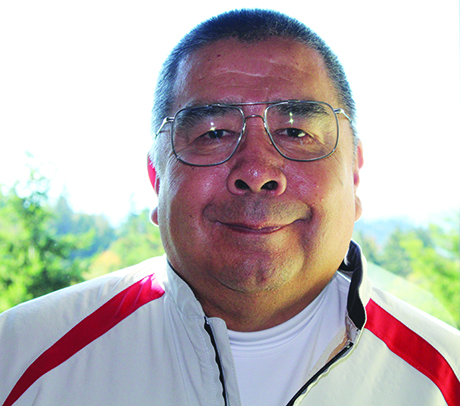 By Kalvin Valdillez, Tulalip News
The Marysville School District (MSD) is comprised of twenty-two schools including ten elementary, four middle and eight high schools.  The majority of Tulalip students attend schools within MSD as the entire reservation is under the school district. Tulalip is home to Quil Ceda Tulalip Elementary School, 10th Street Middle School, Tulalip Heritage High and Marysville Arts and Technology High School. MSD is split into five separate districts based on location, the Tulalip reservation is within and accounts for a large portion of District One. A representative from each district is elected by the community to serve on the school board every four years.
For the past eight years, Chris Nations has been the MSD District One Board of Director and is up for re-election this year. Tulalip tribal member, Ray Sheldon Jr. is challenging Chris for the District One seat and is progressively gaining more support as the election day of November 7 draws near. Ray has been actively involved within his community, coaching little league baseball for nearly thirty-five years. He also is a strong supporter for special needs children, volunteering his time to numerous non-profits including Leah's Dream Foundation, an organization, founded by Tulalip member Deanna Sheldon, which assists local students with autism by raising funds, planning events and providing support to both parents and students.
"I'm an advocate for special needs and the kids that need care because I have four grandkids who are categorized as special needs," Ray explains. "I don't think the school district spends enough money for these people and kind of shoves them in the corner, which bothers me big time. I think we need to help those special needs children. Special needs doesn't necessarily mean they're stuck in a wheel chair, special needs are also the kids who have trouble reading or with dialect or anything else. The school doesn't pay enough attention to them and we should start teaching and spending time with them.
"Budget-wise I feel they [MSD] just work for higher education," he continues. "Those early years are really important. We should start in the beginning [of their education] and have therapists who are able to help these children. I think there really needs to be change with special needs education. It's not just tribal children, its non-tribal too. We need representation for these children. We're not getting it. We're not getting it from Chris Nations, so we need to make a change so someone is there to represent our children."
Former MSD board member, Don 'Penoke' Hatch, not only endorses Ray, but has been the main source of inspiration, providing the candidate with advice and encouragement throughout the race. In previous years, while Penoke served for MSD, community members voted only for their district representative; now community members can vote for all five district representatives. Ray believes that this procedure is flawed because it allows candidates to campaign outside of their district, therefore leaving many of the districts' needs unattended when the candidate takes office.
"Don Hatch used to be on the school board. Years ago we used to visit on Saturday mornings, when he was a school board member, and he told me 'when it's time, you should take over because you care so much about the kids.' He mentioned that he was getting up there in age but is still so passionate about it. I told him last spring that I really wanted to run this year. They changed the rules about district voting just before he left, so he told me it'd be an uphill battle. And it is an uphill battle, but he's helping as much as he can. He's inspired me to keep going and makes suggestions about where I can visit and help. My goal, if I get on, would be to make District One always a tribal district. That's the way it should be. District One is a big district and since we're a sovereign nation we should have that seat no matter what."
During the 2016-2017 school year, MSD had just over 11,000 students attending their schools. Of those 11,000 students, six hundred and ninety-six were Native American and 1,749 students were special needs children. Over the course of recent years, MSD has slowly seen a decrease in attendance.
"We're having a lot of children who are now leaving the school district and going to private schools," Ray states. "I think sometimes they leave the school district because they're not paid attention to, other than they're just a number. Our future is really important, it's important to have our children educated. It will be a better community and they'll be great parents – that's the whole dream. They can do it; they just need someone to make them understand that they can do it. This is the first year I coached the tribal baseball team, they just needed the confidence. I supplied that and they did really well, we only lost one game. All they lack is confidence and once you give them the confidence, they can do it. I think the teachers out here do their best because moneywise they can't hire extra help. If we can better educate our people, maybe some of our issues will go away that we have in the community. I really think we need a Voc-Tech school in our high school area so the lower-tested kids can understand and learn a trade, like we do here with TERO."
"There's five districts, they meet a couple times each month and what bothers me the most is I've been to a few meetings and some of these members they'll sit there and look at their watch and figure 'we spent two hours here so it's time to go'," he expresses. "There are over 10,00 kids in the school district, you'd think they would push and put a little more effort into the schools and be able to help the Superintendent and give her the direction of where to go and how to help. I'd like to make them more accountable. What's a little more disturbing is that a few years ago, it was up to nearly 12,000 students within the school district. They're slowly dropping off because all these kids are also going to private schools where the curriculum is a little harder and they're being pushed. They're all treated like students, not the bottom third. That's what I get a little frustrated with, they need to spend the time, whether its three or four hours, they need to have some sort of accountability to the kids. 10,000 – if you looked at it as if the Tribe used that same model, we'd be in trouble."
Tulalip and Marysville community members who are not registered to vote in Snohomish County must do so online or in person at any Washington Department of Licensing office by October 9, in order to be eligible to vote for Ray during the upcoming election. Ballots will be mailed out to registered Snohomish County voters by October 25, and must be filled out and mailed by 8:00 p.m. on November 7.
"The reason I'm trying to get involved now is because for the past eight years the representative who's in our district now hasn't done anything for the tribal children – at all. So, we need a change quick," urges Ray. "When he needs help, he never comes here to ask, this is where I would like the help. I think it's really important that we need to make a change but I can't do it myself. You can't do it by yourself either. It needs to be done together so that we can get in there and let them know where they've been dropping the ball; and that they also need to worry about us. If we can get a tribal person on there who can help push and get the Tribe back involved with school, things will happen for the better."
For additional information please visit the 'Ray Sheldon Jr. Candidate for MSD #25 District 1 Director' Facebook page.