Kari Neumeyer Northwest Indian Fisheries Commission
Jan 29th 2014
The Tulalip Tribes and Skagit River System Cooperative (SRSC) recently completed a six-year study of juvenile chinook salmon use of small coastal streams in the Whidbey basin.
"Small coastal streams are often overlooked as potential salmon habitat because many flow seasonally and do not provide spawning habitat," said Todd Zackey, the marine and nearshore program manager for Tulalip who obtained grant funding for the research. Derek Marks, Timber/Fish/Wildlife manager for Tulalip, was an additional principal investigator on the research.
The researchers electrofished 63 streams in the Whidbey basin and found juvenile chinook using more than half of them. The migrant fry originated from the three nearby rivers: Skagit, Snohomish and Stillaguamish.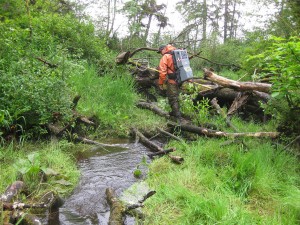 "Juvenile chinook salmon are not just present in these small streams, but they are actively rearing and growing," said Eric Beamer, research director for SRSC, the natural resources extension of the Swinomish and Sauk-Suiattle tribes. "They appear to be using the streams as a nursery, much like they use natal and pocket estuaries."
The results of the study suggest that better mapping is needed to improve the protection of small stream habitat.
"The streams are small enough that the habitat can easily be degraded through direct actions such as channel straightening, armoring, removal of riparian vegetation, and culverting," Beamer said.
To protect and restore small streams, new culverts should not be built near stream mouths, and existing culverts should be removed or retrofitted to allow upstream passage.
"The next phase of research will determine key stream characteristics that can be used to develop a predictive model to identify the coastal streams used by juvenile salmon," Zackey said. "If we are to protect this critical rearing habitat for threatened chinook, we need to continue our research and monitoring efforts."
The study was funded by the tribal allocation of the federal Environmental Protection Agency National Estuary Program administered by the Northwest Indian Fisheries Commission, and a state Department of Ecology watershed grant funded by the EPA NEP. Additional collaborators include the Adopt A Stream Foundation and Whidbey Watershed Stewards.
For more information, contact: Eric Beamer, research director, Skagit River System Cooperative, 360-466-7228 or ebeamer@skagitcoop.org; Todd Zackey, marine and nearshore program manager, Tulalip Tribes, 360-716-4637 or tzackey@tulaliptribes-nsn.gov; Kari Neumeyer, information officer, Northwest Indian Fisheries Commission, 360-424-8226 or kneumeyer@nwifc.org.