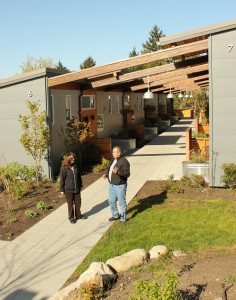 Source: Northwest Indian Fisheries Commission
The Puyallup Tribe of Indians is building environmentally friendly housing that also reflects their culture. This year the tribe's housing authority opened The Place of Hidden Waters, an environmentally friendly 10-unit housing complex that emulates the traditional longhouse design.
"It was important that the building be culturally relevant to the tribe," said Annette Bryan, executive director for the housing authority. "Another important part of the tribe's culture is reliance on natural resources, which this project goes a long way toward protecting."
"The energy efficient design of the building literally includes hidden waters," Bryan said. The building's temperature control system uses the moderate soil temperatures to cool the building in the summer and warm it in the winter.
The longhouse project also used recycled and local sustainable construction material. Rainwater from paved areas of the development are filtered through a rain garden, instead of into a traditional stormwater drainage system.
"We kept in mind the existing trees and natural habitat of the site before we started construction," Bryan said. The building is built toward the eastern edge of a parcel, leaving the western side wooded. The preserved area connects to a 60-acre area that is being restored by the Nature Conservancy and the Port of Tacoma. The housing authority was also able to preserve several mature maple trees on the property.
The Puyallup Tribal Housing Authority provides housing opportunities to enrolled members of Indian tribes. Their mission includes building new affordable housing and revitalizing older housing developments.
The Place of Hidden Waters was preceded six years ago by another green tribal project called the Elder Healthy Home. The 1,300 square foot single family home was a demonstration project that included passive radiant solar heat, native plants and pervious pavements. It was also was constructed with local and certified sustainable wood.
Many of the environmental issues faced by the tribe stem from impacts of poorly thought-out development. For example, the acres of impervious surface in the Puyallup River watershed increased from 47,000 acres in 1986 to over 70,000 acres in 2006. "Because it is an important mission for the tribe, we're trying to do things here in an environmentally friendly and sustainable way," Bryan said.