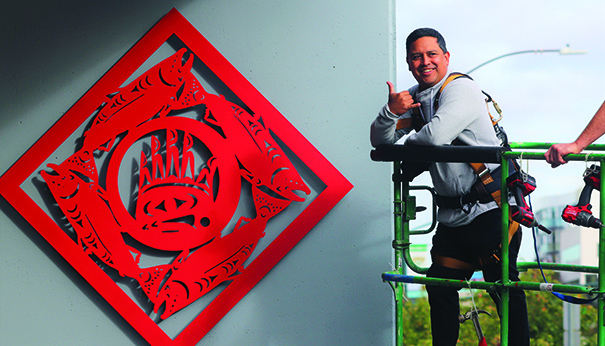 By Micheal Rios, Tulalip News
Tulalip's neighboring city to the south, Everett, is the seventh-largest city in all of Washington State by population, and it's by far the largest city in Snohomish County. Established in 1890, the city of Everett is situated on a peninsula. Its city boundaries are designated by the Snohomish River to the east and the Salish Sea to the west.
In precolonial times, long before imaginary map borders, the land Everett was built upon was home to our Tulalip ancestors. As a sustenance people who lived off the land and natural environment, they flourished in the ideal fishing location. But that was then. And this is now.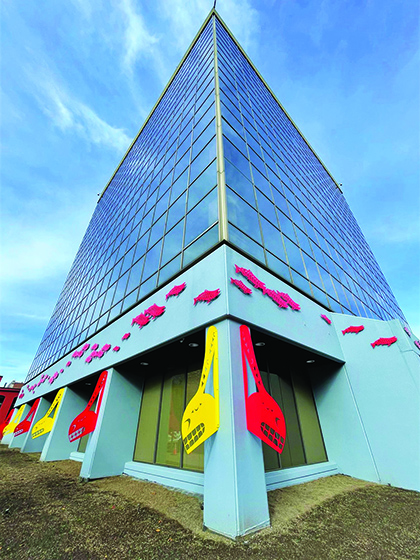 To live in the now is to recognize and embrace the many ways modern Tulalip people have adapted while continuing to flourish well into the 21st century. One such way is evident through our boundary-redefining, limit-pushing artists who refuse to placate a binary system that deems their work traditional or non-traditional. Instead, they embrace challenges to create visionary works of art as they routinely use the latest technologies available in order to manifest their inspired visions via a multitude of mediums.
The latest example comes from a truly vibrant collaborative effort between the city of Everett and Tulalip master carver, James Madison. The Everett Mayor's office desired an artist's touch to remake the outside of the Everett Municipal Building, located at the intersection of Wetmore Avenue and Wall Street. After a call went out for artists, James was rewarded with the job.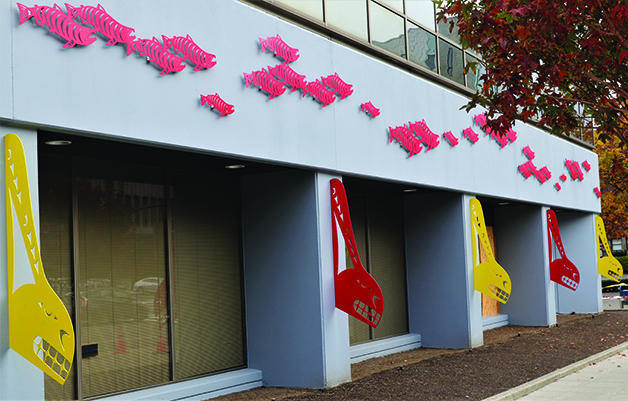 His vision for the project, titled Save Our Salish Sea, was unveiled in late October. Taken together, this enormous metal fabrication installation made up of bold red, yellow, and black colors is impossible to miss for pedestrians and commuters alike. But forged into the durable aluminum and medicine wheel colored pallet is a traditional teaching that has been passed down from one Tulalip generation to the next.
"With this project, I wanted to pay respect to our culture as this region's first people," explained James. "I tried to showcase our culture and who our people are, while paying respect to the Salish Sea through the blackfish, salmon, and our stories that have been passed on for generations.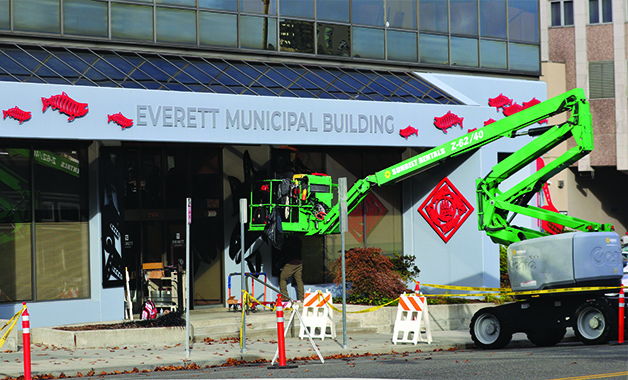 "The salmon run that wraps around the building represents Sockeye," he continued. "They used to be so abundant in our local waters, but now their runs are really short and even desolate in some places. It's important that we continue to raise awareness of the dwindling salmon runs because their well-being is interconnected with the well-being of both blackfish and human populations. My grandpa always told me that it's up to us to keep the blackfish and salmon alive because if they go away, then humans will go away as well."
At the heart of this latest collaboration between a local city and one of our artists is a respect for the cultural heritage that pre-dates the urban landscapes that have taken over Coast Salish territory.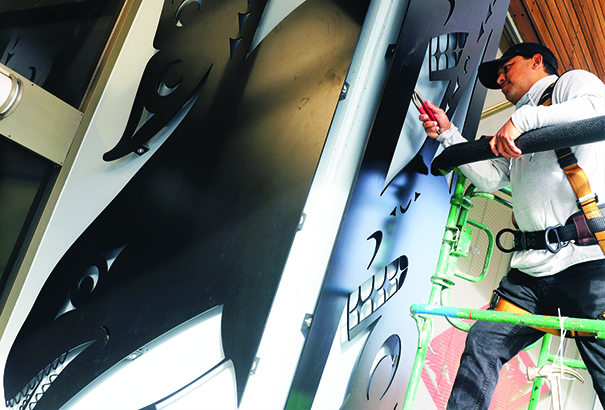 By adorning municipal buildings, ferry terminals, college campuses, and other widely visited public spaces with Tulalip art embedded with iconic cultural imagery, local municipalitiesare finally moving in a positive direction to help preserve the vibrant traditions, intricate artistry, and spiritual symbolism that define our Native culture.