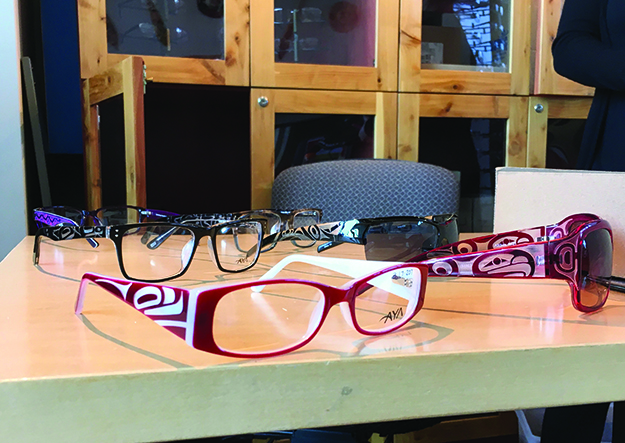 By Kalvin Valdillez, Tulalip News 
The Tulalip Tribes recently welcomed the Everett Optometry Clinic, this past November, to a new office located at the Karen I. Fryberg Health Clinic. For the past forty years, Everett Optometry has provided eye care services to Snohomish county residents. With numerous positive online reviews, the optometry clinic is a favorite among locals of the Everett area. By bringing their friendly customer service and making accountability top priority, Everett Optometry looks forward to a new outlook in eye care for the Tulalip community.
Eye health is often overlooked. In today's society of constantly switching between phone, tablet, computer and TV screens it is important to take care of your eyes and visit the optometrist for an annual exam. During a comprehensive eye exam, an optometrist can determine if a patient requires prescription glasses or contact lenses as well detect early signs of diseases such as glaucoma and cataracts.
Diabetes and high blood pressure, both major health concerns across Native America, can cause damage to the eye vessels, and if untreated can lead to complete vision loss. Everett Optometry works with the Tulalip Health Clinic's medical professionals to provide the best possible care under one umbrella to individuals living with diabetes or high blood pressure.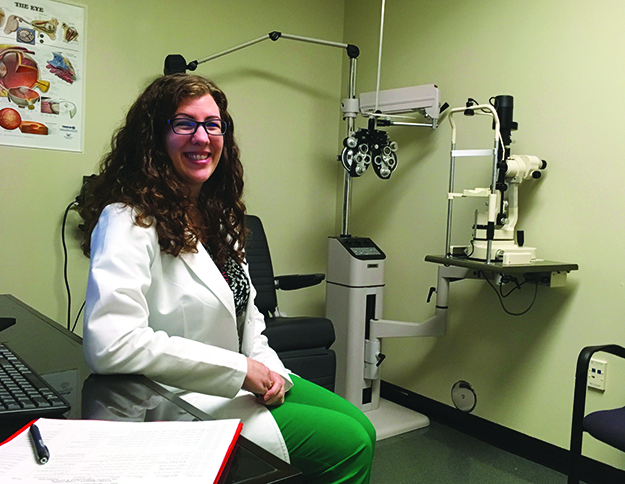 Optometric Physician, Dr. Rachel Spillane spoke of the importance of eye exams, "It's just so critical at all ages, we are seeing everyone from two year-olds to ninety year-olds. Especially for kids right as they are entering school, we want to make sure they have the proper vision and their eyes are focusing properly so they will be able to learn."
Children who are nearsighted, vision that causes far away objects to appear blurry, are able to express their visual impairment and therefore can be treated. However, children who see objects in the distance clearly but have trouble seeing closer items, or farsighted, may not communicate that they are having difficulties seeing properly. For this reason, it is important to get children's eyes checked at a young age, preferably before heading into school. During the eye chart test, when patients read letters out loud from a distance, Dr. Spillane provides fun shapes such as animals for the younger children who may not know their alphabet yet. The optometry clinic also takes the time to discuss proper usage and safety for glasses and contact lenses with children.
In some cases, parents opt to wait to take their children to the optometrist until they are older, preventing the child from unlocking their full potential in school.
"We've been finding a lot of kids that are a little further along, I'd say about second grade, they're really struggling. Their teachers have labeled them as problem children because they're not able to focus and pay attention. And then I'll do their exam and find out they can't see anything. But at that age they don't say what's wrong. As an adult we'll say, I have a headache, or the words are going in and out [of focus]. Kids won't, they'll just quit and go do other things," she stated.
The new office has state of the art technology allowing Dr. Spillane the ability to perform a majority of the procedures at the clinic, with a few exceptions including Lasik Laser eye surgery, which can be performed at the Colby Avenue location. The optometry clinic also sees patients for infections such as pink eye, as well as emergency situations like cuts or eye bleeding.
Dispensing Optician, Dianna Felgar, assists during the process of choosing the perfect pair of frames, lenses, and contact lenses for each patient. The new optometry clinic offers a variety of frames from over thirty brands including Oakley, Ray Ban, Dolce & Gabana, Maui Jim, and the Native American eyewear company Aya.
Qualified patients may receive additional financial assistance through Tulalip's Patient Assistance program. Gloria Beal, Paraoptometric at the clinic, works with finance and insurance companies to ensure the patient is receiving the funding they are eligible for, therefore allowing them to receive the care they require.
Currently the Everett Optometry Clinic is open on Tuesdays and Thursdays between the hours of 8:00 a.m. and 5:00 p.m. However, through an office cell phone where voicemail and text messages are encouraged, they are available to the Tulalip community at all times. Patients can also be seen Monday-Friday at the Everett location.
For additional information please contact (360) 716-4511, visit www.everettoptometry.com, or call/text their office cell phone (425) 314-1312.