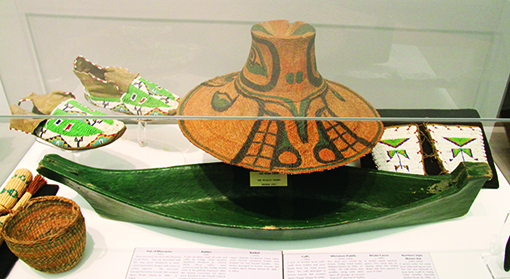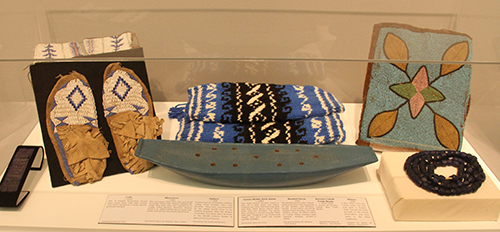 By Kalvin Valdillez, Tulalip News 
Looking to plan a fun yet educational activity for the entire family? Look no further, because Tulalip's Hibulb Cultural Center has your back! This summer Hibulb unveiled its brand new exhibit, Vibrant Beauty: Colors of Our Collection. The exhibit, geared towards students in kindergarten through the third grade, is interactive and such a blast that youth will gain a whole new perspective on color. Hibulb's Senior Curator, Tessa Campbell believes that although this exhibit is targeted towards youth, adults will also have fun and learn a few new things about color during their visit.
"We had the vision of creating the exhibit to be highly interactive, and we developed a total of 12 different colorful activities. Children will have the opportunity to reflect on how color affects them, vote for their favorite color, and discover why we like a certain color or choose to wear certain colors. In addition to the color reflection opportunities, children and visitors can learn how to say colors in our Lushootseed language," stated Tessa.
Learning colors in Lushootseed is enticing on it's own, pair that with the remaining 11 interactive activities such as a touch screen computer that not only allows you to learn about the color wheel but also shares traditional Tulalip stories, and you have yourself a culturally rich museum exhibit.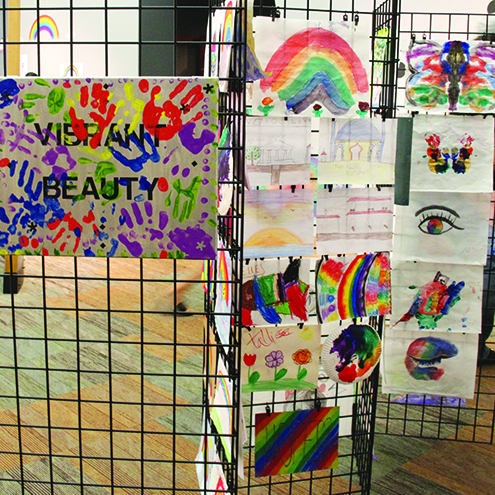 One of the many interesting facts about this exhibit is that everything on display was made in-house by the Hibulb staff, Tulalip artists, and Tulalip youth. Vibrant Beauty uses colors brilliantly; the exhibit incorporates new information on colors that the Tulalip youth frequently see around the community. Among the touchscreens, puppets, and engaging stories is a magnificent display featuring watercolor artwork made by the youth in the Tulalip community that attend the Boys & Girls Club.
Tulalip artist, Ty Juvinel, was extremely hands-on during the creation of the Vibrant Beauty project for Hibulb. Creating the main display in the center of the exhibit, Ty expressed the importance of individuality within a group project with both his contributions as well as his story he shared, How Hummingbird and Butterfly Painted All the Flowers.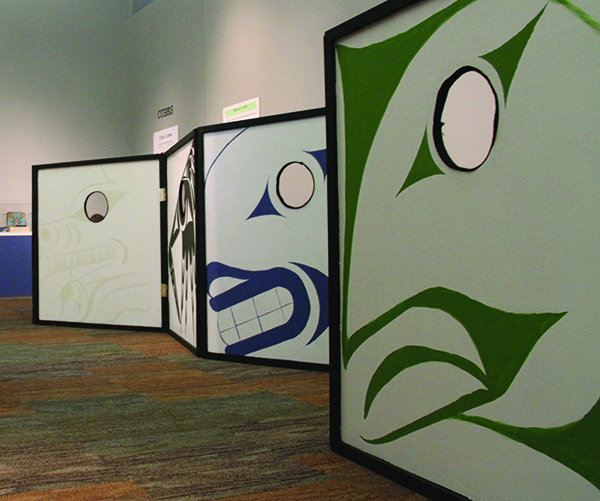 Hummingbird and Butterfly, a Ty fan favorite, perfectly conveys why colors are essential to our community. Ty stated that colors are our emotions, that statement holds a significant amount of truth. Our brains associate colors with certain emotions and we often use colors to describe how we feel. For example, we might say we feel red when we are frustrated or angry and blue when we are upset or sad. The recognition of how colors affect your emotions is a big take-away for the youth.
The Vibrant Beauty exhibit is on display until February 2017. According to feedback from a lucky few families who got a sneak peak on Friday July 15, the exhibit will be a major success.
The cultural center is thrilled to have an exhibit on display that caters to the local kids.  They found a way to reach the youth, families and the entire Tulalip community on a much deeper level than one would expect at first glance of advertisements for the Vibrant Beauty exhibit; while simultaneously creating an exciting, fun and informational environment.
Mytyl Hernandez, Hibulb Cultural Center Marketing and PR, shared her excitement of shaping the minds of Tulalip's future leaders stating, "The kids are going to keep the cultural fire burning!"