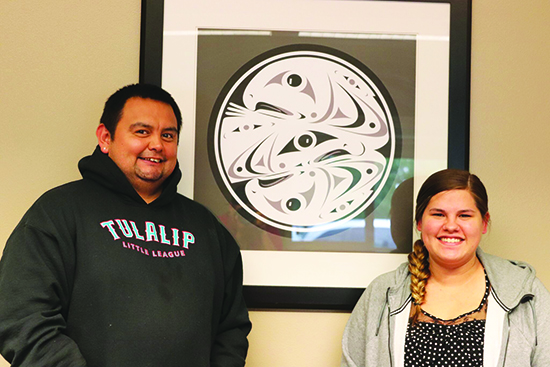 By Kalvin Valdillez, Tulalip News 
The transition from adolescence into adulthood is no easy feat. The teenage years are filled with triumphs and numerous setbacks. In many Native communities, kids are exposed to much more pain growing up, witnessing their loved one's attempt to fight through adversity and find ways to cope with the years of generational trauma that is embedded in our DNA. Sometimes we find healthy outlets to work through that trauma and other times we look for ways to escape it. In addition to finding their personal identity, studying, participating in social activities and preparing for college, Native youth face many similar challenges as the average teen, but arguably at a higher extent, such as depression, violence at school or at home, the pressure to abuse drugs as well as the loss of friends or family to suicide. 
Teens often need an extra bit of encouragement to help them through their periods of struggle. Many kids look to confide in somebody outside of their families, who can listen, relate and provide a positive perspective to help them keep pushing forward. Tulalip Outreach workers, Dakota (Cody) Monger and Cassandra Jimicum, are providing exactly that for several local youth of the community. 
The Family Haven program, Team Outreach, is designed to provide support to Tulalip youth, helping them accomplish their goals and get things back on track. Cody works with the young men of Tulalip between the ages of thirteen and twenty-two, while Cassandra works with the young ladies between fourteen and twenty-two. The teens learn how to set, prioritize and accomplish both short and long term goals while also receiving assistance with recovery, physical and mental health, legal issues, obtaining a driver's license, money management and resumes. The program assists high school students get re-enrolled if they dropped out of school and also helps those who wish to transfer schools within the Marysville School District. 
"We will help them with everything and anything really," says Cody "It's like a role model program or a mentorship. Everything you can think of that our youth needs, we cover it like self-esteem, or if they're suicidal and too scared to talk with somebody about it. It's hard to pinpoint a specific area we work on, but we work at their pace. The biggest thing is we want to earn their trust and just be real with them, like call their bluff out or if they're doing something wrong, tell it to them like a friend would, like dude you're messing up."
"They set their own goals and we go at their pace," adds Cassandra. "I just started in February and I've already helped my girls with TANF, I awarded a few shoe vouchers, I got one of my girls into Drivers Ed, I got two girls enrolled back in school and helped a girl get into counseling. We have a referral process and when we get referrals, we go out and just talk with them. They tell us everything they want to accomplish and then we narrow it down to two goals and then we work on those goals and once those are completed, we work on two more."
Both Cody and Cassandra have seen a number of success stories from the youth who participate in their groups. They explained that they proudly watched several individuals overcome personal obstacles and achieve huge feats, rising to the challenge one issue at a time and getting things done. 
"I had a young man who posted every day that he didn't want to be here," Cody states. "It took about six to eight months pinpointing where the issue stemmed from. We had to break everything down, just so he could be happy again. Now the only thing he posts are messages saying 'I'm doing fantastic, I'm going to school today or I love being a stepdad.' He went from a deep, deep depression to being happy and thankful every day. He's holding down a job, getting his GED, he became a stepfather and recently he's started traveling more.  
"Another one of my guys got in a fight with a family member and literally barricaded himself in his room for months on end and had no communication with anybody, not even his mom. Now he's into classical music, he's holding B's and A's in school and is going to be doing a few concerts in the summer."
The Outreach workers meet one-on-one with their teens on a weekly-basis, allowing them the chance to vent about any current difficulties they are experiencing as well as celebrate any new victories. Cody and Cassandra make the experience as smooth as possible for their clients by meeting them where they're most comfortable, whether that's at the Family Haven office, home, school, a coffee shop or a restaurant. 
Since Cody's program has been established for a few years, many members of his group are well-acquainted with each other and have created a strong support system within the group. Cody also holds a study day on Wednesdays as well as an end-of-the week gathering, where those who wish to participate can meet up to talk about the week or participate in a physical activity together, like weight training or a pick-up game of basketball at the Marysville YMCA. As Cassandra's program continues to gain momentum and additional participants, she also wishes to hold group gatherings throughout the week to enhance life skills with cooking and exercising classes as well as fun art and craft activities. 
Currently Cassandra is guiding six young ladies through the program and Cody is serving twelve young gentlemen on a consistent basis. They want to extend a friendly welcome out to other young adults in the area who can benefit from this program, as well as to those parents and teachers who may have someone in mind that could use a helping hand, and some encouragement to reach their full potential and beyond.
 "It's important for our kids to know that there is somebody out there willing to go above and beyond for them, to help them through their darkest times," expresses Cody. "I know sometimes it's hard to reach out to ask for that peer support, or help in general. It's a good feeling for them, knowing that there are people who are genuinely looking out for what's best for them and their future."
Nodding her head in agreement, Cassandra adds, "I feel the same way. It's important that people know we are here to help our kids get back in school and that we are here to assist in any way we can to make sure they are successful in life."
For more information about the Team Outreach program, please contact Family Haven at (360) 716-3284.