By Micheal Rios, Tulalip News
Dietreich Rios, Suquamish tribal member and owner/operator of Dietreich Fitness in Orlando, Florida, hosted a Native youth basketball camp and fitness clinic at the Donald Hatch Jr. gymnasium, November 23-25. The 3-day health expo was all about health and fitness, while promoting a tobacco-free lifestyle.
""I've trained a lot of athletes, from professional basketball players to body builders, but my passion is motivating and helping our Native peoples stay healthy and strong individuals," says Dietreich while in the midst of a stretching routine he does before day one of the basketball clinic. "Over the past couple years I've become more involved in not only the fitness community, but in Native American health across the nation.
"I try my best to reach and help inspire, motivate, and teach as many people as I can. I preach fitness and basketball since that's what I grew up doing; playing basketball was all I did as a kid then as I got older I got heavily into fitness. I try to integrate the two whenever I can."
Dietreich grew up in the greater Seattle area before moving to Florida to pursue dreams of opening his own fitness center. He has become a renowned personal trainer and basketball skills coach to many high school hoopers, D-1 college athletes, and has even added the likes of Glen 'Big Baby' Davis (an NBA player) to his clientele.
We've all witnessed how the health and fitness movement has grown immensely over the past several years. Currently, there are no shortage of gyms and workout areas in Marysville, and it wasn't too long ago that the Tulalip Teen Center and Tulalip Bay Crossfit opened their doors to our reservation based community.
"Getting Natives to keep their minds and bodies healthy through fitness, exercise, and sports is a big movement right now. We've always had basketball, rez ball you know, but from what I've been seeing there is more of an emphasis on overall fitness and health within tribal communities," explains Dietreich. "Our people are getting inspired from seeing the Nike N7 movement and by seeing famous athletes like WNBA all-star Shoni Schimmel. More Native youth are seeing people who look like them have success on the professional level, especially young girls who look up to Shoni and her sister Jude, they are motivated play basketball."
Preaching and advocating for a healthy lifestyle that includes being active through exercise and sports is nothing new for Native Americans. Natives have always been known for their athletic ability, but in the last couple generations the numbers say that athletic skill isn't being utilized like it once was. Obesity, diabetes, and heavy alcohol/drug use have been running rampant through our communities, making it harder and harder to find the well-conditioned Native athlete above the age of 30.
Whatever the reason may be, tribal departments and communities nationwide have ramped up their focus on engaging Native youth to stay active through sports and fitness. Get them started when they are young and the hope is they'll continue to maintain that healthy lifestyle and be a role model to others later in their life.
"The movement is definitely growing. Through my travels I've seen more community fitness centers and youth athletic centers being built on reservations," reflects Dietreich. "Now there's a big emphasis to have a gym, to have places for our people to work out and stay fit, and to have departments getting our young ones involved in sports and fitness."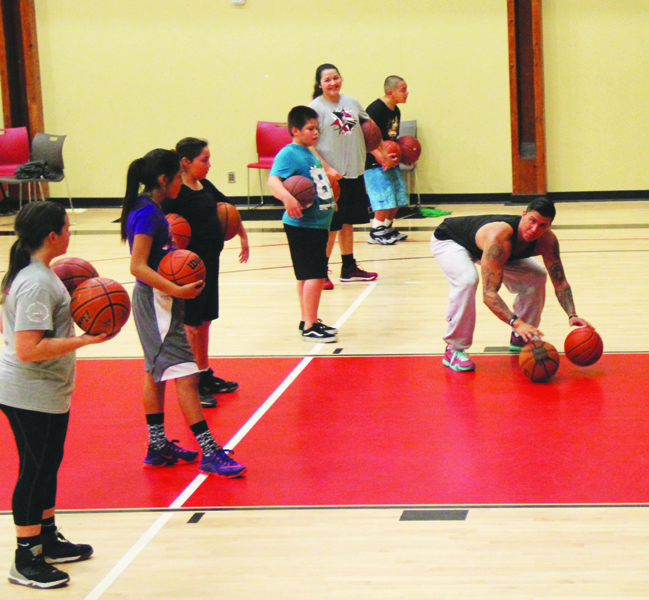 The Tulalip Tribes Youth Services Department has been monumental in creating activities, services, and teaching fitness based curriculum to our youth. Since opening the Tulalip Teen Center, the Youth Services Department has been steadfast in reaching out and bringing motivational speakers, fitness experts, and Native celebs to engage with our youth.
Shortly after we hosted the Gary Payton Basketball Camp, Youth Services, with the help of DeShawn Joseph, learned of Dietreich and his assortment of fitness skills he uses to motivate and energize Native youth. Within the past year Dietreich has taught fitness and basketball camps on the Jamestown S'Klallam Reservation and within the Navajo Nation. He is also preparing to do some fitness camps up north for a few First Nations tribes in Canada.
Throughout the 3-Day fitness camp, Tulalip youth had conversations about how to properly workout and take care of their bodies, learned the importance of a good warmup that includes stretching as to avoid injury, and covered tobacco prevention.
"Tobacco prevention is an interesting topic to me because it should be a no brainer for all athletes, but still there are so many young athletes who choose to smoke," asserts Dietreich. "If you are going to play sports, then you shouldn't smoke tobacco because it's detrimental to what you're trying to do."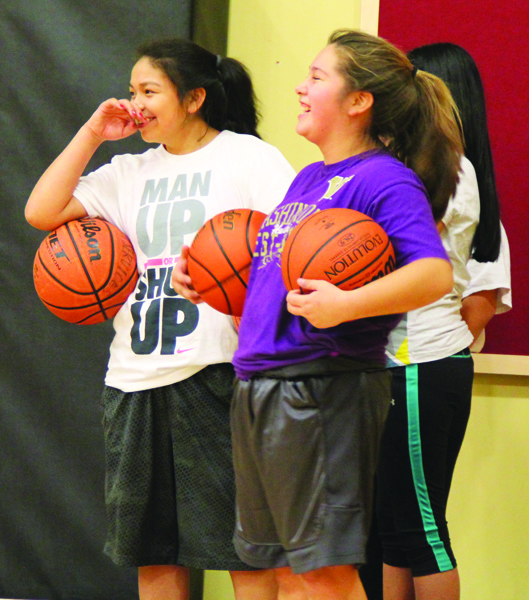 The exercises the kids enjoyed most during the camp were undoubtedly those that called for dribbling or shooting a basketball. They were all able to participate in a multitude of basic and semi-advanced basketball skill building exercises. Each exercise is something Dietreich hopes the kids will continue to make part of their fitness routine.
Following the fitness camp, Dietreich took to Facebook to thank the Tulalip community. "In the spirit of being thankful, I want to thank the Tulalip Tribes for hosting me this week while I put on this youth basketball and fitness clinic. I had a great group of kids! Hope everyone enjoyed it as much as I did."